By Anindya S. Basu
How is Spain, Italy, Belgium, Rio, and Kolkata connected? There can be many similarities but the most exciting part to look at it is their world famous carnivals. Be it a Tenerife Carnival in Spain, Venice Carnival in Italy, Rio De Janeiro Carnival or our very own Durga Puja in Kolkata. They unite, include, emote happiness and leaves a lingering taste which makes you look forward to next year. Yes Durga Puja is the carnival in Kolkata which is the most coveted event of the city. It is officially a four day event starting from the sixth day or Shasthi from when the worship starts till Navami or the ninth day. But the anticipated celebrations starts earlier and the memories hardly fade away after the pujas. This is the same time entire India celebrates Navaratra, however it's Durga Puja for Kolkata and Bengalis.
The worship or the Puja revolves around Ma Durga – the supreme goddess with ten hands. Each artist has his own interpretation of the Devi and each one is a master piece to look at. The face and the overall appearance is traditional, sometimes inspired from modern art, to abstract to contemporary issues to folklores to greatest artistic creation that one can fathom. There are many phases to worship and festivities involving lots of rituals but there are many layers and sub layers to Durga Puja than what's perceived.
Since time immemorial, elements of nature like Water, Earth, Fire and Air have played such a significant role in our lives. When it comes to Durga Puja, it is no different. Interestingly, the multifaceted grandeur of this festival makes this a photographer's paradise as snapshots of memories are created.
WATER
On Mahalaya, hundreds of people visit any of the ghats by Ganga, like Sovabazar, Ahiritola or Babu Ghat to offer tarpan. Tarpan is the process of praying for the well being of the ancestors and one can see many people offering prayers and food to their ancestors.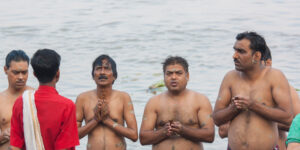 Mahalaya is like the official poster/ trailer of Durga Puja. It increases the anticipation and excitement and the wait, all of a sudden seems so long. And like all things, Durga Puja also starts and ends at the same place- the ghats of the Ganga. After four days of Ma Durga staying at her home with kids, she bids good bye with prayers for a safe journey back to Kailash and then the idols are immersed in Ganga. That's bisorjon for you. We often hear about life coming full circle and this is a classic example of it.
FIRE
In any Hindu ritual and for that matter across all religion, fire is considered holy. In Durga Puja also, fire is an indispensible part of the proceedings.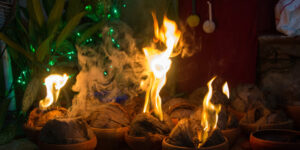 When the purohit or the priest sits down for Puja, there is always a diya burning near the deity and it keeps burning all through the Puja. When the Puja ends, the large diya stand is brought to everyone for blessing. The palm of both hands are warmed with the warmth of the fire and spread over the head. Aarti, which is an integral part of Durga Puja remains incomplete without fire. Ask any Bengali about Durga Puja attractions and he would tell you about Dhunuchi Naach on Ashtami evening along with many more attractions. Dhunuchi Naach is another unique way of offering tribute to Devi Durga through the form of traditional and sometimes improvised dance, holding the Dhunuchi in their hands and sometimes over their head.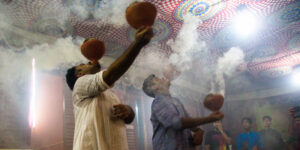 Dhunuchi is the earthen pot in which the camphor and the coconut husk are burnt to make fumes and one can hold one or many in their hands, head or even mouth and then sway to traditional Durga puja beats of the dhaak.
This is a great inclusion activity where even if you are from other provinces of the country, you participate and get the feel of Pujo. It's a tradition where if you are the junior most, more often your seniors will teach you a step and dance with you. Here is to many more of those Dhunuchi Naach on Ashtami evenings and declaring yourself as arrived.
AIR
Most would agree that Kolkata smells different when it is puja season. The climate is pleasant and autumn or sharat brings with it a beautiful clear sky.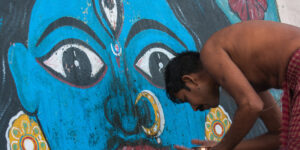 There are incense sticks and camphor burning everywhere. The smell of new clothes, khichudi being cooked at home, a variety of aroma from different food stalls, people decked up all around with different perfumes, even the smell of sindur on women going for aarti; everything smells different during puja. Kolkata smells differently during this time.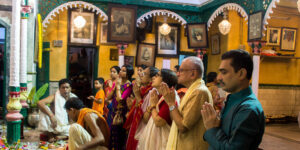 There is also a feeling and smell of belief and happiness all around. This is like a magic potion which makes you forget all grief, sorrow, loss and makes you look forward to the next year. Belief and prayers is reassuring and best tool to rescue from the darkest hours of life. Folded hands with eyes closed or staring at Ma Durga with silent prayers along with a conversation with her is a very common sight.
EARTH
Do you remember the classic Devdas, where Aisharya Rai playing Parvati, the wife of a rich Zamindar goes to courtesan Chandramukhi's house to get the clay for making the Durga idol? If there was no earth, perhaps no Durga Puja would have ever happened.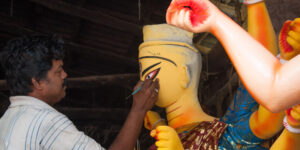 On a wooden structure, first the straws are tied up and then layers of clay is modeled on it. Just like pottery, idol making is also a form of art which goes through different stages. Kumortuli, the idol making locality of Kolkata is often visited by enthusiasts and the idol making starts almost 6 to 8 months prior to puja. This place not only supplies idols to local neighborhoods but across the country and around the globe too.


Another form of Earth, which is the protagonist in Durga Puja is Sindoor Khela on the last day or Dashami. The married women bid farewell to Ma Durga as she is on her way to Kailash by smearing sindoor or vermillion on the forehead of Ma Durga and feeding her some sweets. After that they also apply sindoor on each other, give sweets to each other and literally play Holi with sindoor. There are dhakis playing dhak and women covered in red dancing to the tunes of the dhaki. It's a riot of red. This is the last time before visharjan that one can have fun as Durga Puja almost comes to an end.
All this makes you feel excited to visit Durga Puja? Then don't miss out on these tips
1. If you are visiting Durga Puja then please be prepared to walk a lot and stand in queue for visiting the best of the Pandals and Pujas. So, walking shoes are a must.
2. Many may suggest trying out the local cuisine in restaurants but keep that for afternoons at the best since in the evening, it gets too crowded and a better option will be to try out the street side food stalls.
3. There are enough options for vegetarian and non vegetarian food preferences. So don't worry about that.
4. The pandal hopping must be divided into zones like North Kolkata, South Kolkata, Central Kolkata, traditional houses etc.
5. Kolkata expects and welcomes all tourists during Durga Puja. So your presence is already expected. No one will frown or be surprised if you click pictures.
6. The public transport is efficiently ramped up including additional running hours for Metro Railways and many trademark yellow taxis running across the city throughout the night, in addition to private cab operators increasing their number of cabs. You might also want to book a cab in advance for the day.
7. It's hard to make a list of which of the Pujas are a must watch, as all are almost equally good. But Sreebhumi Sporting club, Santosh Mitra Square, Muhammad Ali Park, Manicktala Chaltabagan, College Square, Bagbazar, Kumartuli, Ahiritola in North Kolkata and Ekdalia, Singhi Park, Suruchi Sangha, Maddox Square, Bosepukur, Jodhpur park are some in South Kolkata. Every year this list changes but none would disappoint you.
A digital influencer, a writer and a globetrotter; Anindya S. Basu is more than just a blogger. He is a magsman, who artfully spins his travel experiences with emotions and connections. With a penchant for photography, his sojourns are supplemented with a visual appeal of beautiful images. His award-winning blog, www.pikturenama.com captures the essence of authentic culinary experiences and travel tales.