By Amaninder Hunjan
The pristine blue waters of Prashar Lake (2730 m) lies at a distance of 49 kms from Mandi in Himachal Pradesh. Standing by the Lake is an exquisitely constructed temple in Pagoda style. The site is an ideal place for camping close to nature.
It was an unplanned trip for us because usually, December is a wedding month. Somehow my friend and I managed to escape from our busy schedule. On 25th December, around 6 PM we left from Ludhiana and decided to go to Prashar, since it had always been on my travel list but never got a chance to visit the place before. So, this time it was Prashar. We chose Prashar because usually after 25th December, you get heavy snow in Himachal and Prashar always seemed so magical in winters. We started our journey at 1:30 AM from Chandigarh and didn't know anything about the place. Also, it was too late to call any friend who have been there before. At 4 AM, we took our first tea break at a random road side dhaba. Having started the journey directly after winding up the shoot, we were too tired by this time of the day. So we decided to take a rest and parked the car to sleep for 2-3 hrs. We
reached Prashar in morning, around 9 AM. Much to our disappointment, there was no snow. Last year, as you all know, Himanchal Pradesh experienced less cold winters and Prashar was also a part of it. The place offers an 180 degree view of the Dhauladhar, Pir Panjal and Kinnaur mountain ranges. As we reached, our rst thought was, "Okay we are here, now what?"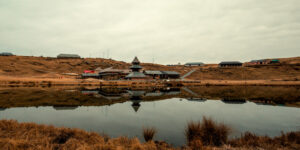 The first thing in the morning we did was going to the temple and taking blessings of the Almighty. There is a beautiful temple dedicated to the sage Prashar next to the lake. Its architecture is unique and attractive. The temple
was built by Raja Ban Sen of Mandi in the 14th century. It is a very beautiful temple capped with a roof of slate tiles and beautiful wood carvings. There is also a tiny Phumdi Island in the lake. This floating mass of vegetation keeps changing its location, but at a very slow pace. During summers, it touches one part of the lake and then slowly floats away towards the other side by winter. Next we walked to the nearest 'top' from the lake. I was not able to stop myself my hands from clicking pictures because Prashar is magical. The weather was pleasant and we tried taking the best shots from every possible angle.
Prashar is a place that changes its color with season. If you go in summers, it's all green. In winters, it's all brown. During the snowy season, it's all white. Parashar Lake looks like a blue emerald in the midst of green pastures and gigantic mountains. The surroundings of the lake are a rare site which can enchant the mind and soul of every tourist.
We sat on the grasslands and had our moments. The sky was grey, but in the afternoon it turned blue. This place gave me a feeling like never before. It is always the diversity & people that makes the place attractive. But this place with no houses, no people, and only nature, is so different, so exclusive, and so peaceful. We did camping- bonre and the mesmerizing sunset accompanied us. We played old jazz music. Our host was a great cook who cooked delicious dinner for us & shared his experience us to how he survived when a tree fell on him due to which he had to go under a surgery. It was remarkable. The energy was so high that everything seemed dreamy, so I pinched myself just to check it is it real! Next morning, after breakfast, we met the priest of the temple who asked us to stay for one more night as sarai (guest house) are available there to stay. But we had to head to Parvati valley for next 2 days.
It is not easy to travel as a photographer since you always have to carry your equipments & rucksack. I want people to see my experience through my pictures as I am an artist and can capture that moment and put it out. I want people to see the story through my images. You are not just capturing people, you are also capturing their soul.
Legend of Prashar Lake: Bhima, one of the Pandava brothers, is said to have created this lake. The story goes that after the Kurukshetra War, Pandavas were returning with Lord Kamrunag. When they reached this place, Kamrunag loved the tranquil surroundings and decided to live here forever. So, Bheem (the strongest of the lot) rammed his elbow on one of the mountains and created a dent. This dent is said to be todays Prashar Lake. Locals believe that the lake is in the shape of Bheem's elbow. It is believed that sage Prashar meditated on the banks of this lake. Hence it is named as Prashar Lake in Himachal Pradesh.
Interesting Fact:
Till now no one has been able to find out the depth of Prashar Lake. Locals say that once they have seen big trees drowning in water due to a storm and that too without leaving a trace on the outer surface.
TRAVEL INFO
HOW TO REACH: (By Road) Prashar Lake lies at a distance of 49 kms from Mandi town in Himachal Pradesh. Mandi is well connected to other major towns of North India. You can hire a private vehicle or cab from Mandi to
reach here.
(By Train) The nearest major train station is at Chandigarh (178 Kms from Mandi). (By Air) The nearest airport is at Bhuntar near Kullu (55 Kms from Mandi).
Trekking: The Trekking route to Prashar Lake, begins from Baggi Village (7 Kms trek).