The rise in coronavirus infections in China has caused widespread panic and disruption. In Guangzhou, a city 120 km north of Hong Kong, the outbreak has led to the shutdown of schools, bus, and subway service and the cancellation of flights to Beijing and other major cities. In the Beibei district, schools have been closed in Chongqing, and residents of the Yubei district have been barred from leaving their apartment compounds.
As another outbreak of infections is reported, 1.8 million people in the southern metropolis of Guangzhou were asked to stay home for virus testing on Saturday. Another major city in the southwest also closed schools due to a spike in infections.
Over the past 24 hours, 11,773 infections have been reported nationwide, including 10,351 without symptoms. Though the number of cases is low, an increase over the past week challenges China's "zero-covid" strategy to isolate every infected individual.
In Guangzhou 3,775 infections were reported, including 2,996 without symptoms. It represents an increase over Friday's total of 3,030, which included 2,461 individuals without symptoms.
Those living in the Haizhu district of Guangzhou were advised to visit the nearest testing facility. Otherwise, according to a statement posted on the district government's social media account, they were asked to stay at home. There was a limit of one person per household allowed to go grocery shopping.
Health officials also warned Saturday that the decision to modify anti-virus controls did not mean the curbs were going away.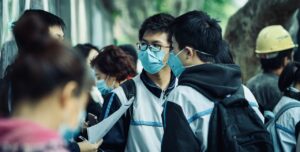 China to shorten the quarantine for foreign arrivals
China announced on Friday that it would shorten the quarantine for arriving travellers from seven to five days to reduce their costs and disruption. Under the proposed changes, some foreign businesspeople and athletes visiting China would not be required to undergo a quarantine period within a contained area. A more focused approach is being taken concerning who counts as an infected person's contact, thereby reducing the number of cases.
The NHC deputy director, Lei Haichiao, stated, "This does not imply relaxation or "lying flat," but a more accurate and scientific prevention and treatment strategy." It is intended to prevent the epidemic and minimize its impact on economic and social development, said Lei.
China stick to "zero Covid" policy
While other countries eased travel restrictions and shifted to a long-term solution to living with the virus, the Communist Party said it would continue adhering to the "zero Covid" policy.
Experts in public health and economics believe Beijing could begin winding down "zero Covid" by mid-2023. However, tens of millions of older people must still be vaccinated before restrictions on foreign visitors to China can be lifted.
A virus test is required daily for people who wish to enter supermarkets and other public buildings. It allows authorities to spot infections in people who have no symptoms.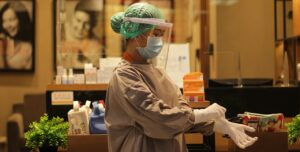 In Guangzhou the number of cases grew over the last week. This forced the city to close its schools and bus and subway services. On the other hand, Chongqing, one of China's largest industrial cities, closed schools in its Beibei district, which is home to 840,000 people.
Residents of a series of apartment compounds in its Yubei district were barred from leaving. However, the officials did not disclose how many people were affected in the city.
Protests and clashes with local officials have broken out in some areas due to public frustration and complaints about food and medicine shortages.
Delivery of iPhone 14 delayed
Meanwhile, 6.6 million people in eight districts of the central city of Zhengzhou were screened on Saturday. In response to outbreaks, access to an industrial zone in Zhengzhou, home to the world's largest iPhone factory, was suspended last week. Apple Inc. has announced delivery delays for its upcoming iPhone 14.
Despite efforts to ease the damage, the world's second-largest economy continues to suffer. Forecasters say business and consumer activity has slowed after rebounding to 3.9% from 2.2% in the first half. Several economists have revised their forecasts for China's annual economic growth to 3%, the lowest in years.