Himachal Pradesh is likely to be served by the Vande Bharat train very soon. As per the media reports, Prime Minister Narendra Modi would flag off the Vande Bharat train for Delhi from Una railway station on his proposed October 13 visit to Himachal Pradesh. PM is also expected to address the public meeting at Una railway station.
A semi-high-speed Vande Bharat train, the fourth in the series, will be rolled out from the railways' Integral Coach Factory in Chennai for Himachal Pradesh, which is set to go to the polls this year. There is a good chance that the trainset or rake will be ready within the next two weeks.
According to sources, a trial run of the train would take place between Delhi and Una (in Himachal Pradesh) via Chandigarh. The train will likely run on the Delhi-Una or Delhi-Kalka routes. Kalka is often referred to as the gateway to Himachal Pradesh. It takes around 7-8 hours for express trains to cover the distance between Delhi and Una. The Vande Bharat train would reduce the total journey time on the route.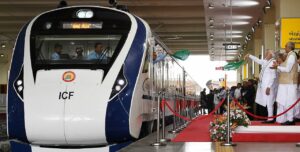 The third Vande Bharat train was flagged off from Gandhinagar station recently by Prime Minister Narendra Modi. The train is capable of running at a top speed of 160kmph. Officials said there is a strong demand for Vande Bharat trains from all states.
It is expected that the testing for the new train will last only a few days as the prototype has been tested extensively on the Mumbai-Ahmedabad route to obtain CCRS (chief commissioner of railway safety) approval for the new train. In addition, overhead equipment (OHE) and other essential items would undergo testing.
The 16-coach Vande Bharat train is scheduled to be brought to Delhi for a short trial on the Delhi-Una route.
Second-generation Vande Bharat trains are faster and offer more amenities than the two first-generation trains currently running between Delhi-Varanasi and Delhi-Katra. Prime Minister Narendra Modi had launched the trains from Delhi to Varanasi and Ahmedabad to Mumbai, while Amit Shah had introduced the Vande Bharat service from Ahmedabad to Katra. Last year, the PM had set a goal for the railways to manufacture 75 Vande Bharat trains by August 15, 2023.