Delhi: As a Tourist Destination, India can become a wonder in the world, Prime Minister Narendra Modi on Thursday said during his Independence Day address to nation here.
"There is huge scope to improve our tourism and India has so much to offer. All Indians should promote tourism, because tourism sector provides more jobs with less investments and also strengthens economy. I know people travel abroad for holidays, but can we think of visiting at least 15 tourist destinations across India before 2022," the PM said. He added that people should visit Indian destinations even if there were no hotels or infrastructure there, as these visits would lead to better facilities. As tourism grows, capital investment provides more employment opportunities. The country's economy also gets a boost.
PM said, "In our country the bulk of middle class and higher middle class are increasing. This is a good thing. People go to various countries as a tourist with their family once or twice in a year. It is good that our children get exposure. But today I want to urge all such families to think over whether they will want their children to know their country as well, when it celebrates the 75th Year of its Independence, which could be achieved after many great men and women had sacrificed their lives? Are there any parents who do not want their children to be emotionally connected with the country's soil, its history, its air and water? Do they not want their children to gather new energy from all these? We have to move ahead in right earnest. No matter how advanced we become, if we get cut off from our roots, we can never survive. Today from the ramparts of Red Fort, I am asking you one thing. This is to generate employment of the youth, to build an image of India in the world and to tell the world what India is capable of. It is time you decide that before 2022, when India will be celebrating the 75th Year of its Independence, we take our families to at least 15 tourist destinations in the country. We may face some difficulties in those places but still, you should go. Our children will learn what their country is, when they visit such tourist destinations".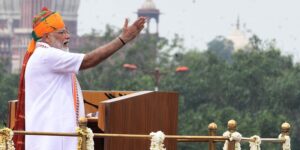 "A new world will come into being in the places you visit. You will get bliss in the life once we Indians visit the tourist spots of North-East, foreigners will also follow suit. But, think over when we go out of the country and the people there ask, whether you have seen that temple in Tamil Nadu and we say ''No''; then how does it feel. They would be surprised and say that they being foreigners, have visited that temple but you being an Indian have not seen it so far. So, before we go abroad we must know our country well", PM said in his address.