IndiGo, India's leading airline, is making its way into the Himalayan state of Himachal Pradesh. Starting March 26, 2023, the airline will begin operating flights between Delhi and Dharamshala. This marks the 78th domestic destination for the airline, as well as the 104th overall destination in the IndiGo 6E network.
The newly launched route will provide travellers with the convenience of flying directly between the two cities and help open up new tourism opportunities in the region. Dharamshala is a popular destination for both Indian and international tourists, and the city is known for its picturesque scenery and rich cultural heritage.
A convenient and affordable option for travellers
Vinay Malhotra, Head of Global Sales, IndiGo, said, "We are pleased to announce Dharamsala as the 78th domestic destination. This will be IndiGo's maiden destination in Himachal Pradesh. We have witnessed a strong demand for connectivity to Himachal Pradesh since the offset of Covid-19 as more and more people are now travelling to the hills during the summer months and for work."
"The direct Delhi-Dharamsala flights will connect Himachal with the rest of the country and international destinations in Asia, the Middle East and Europe. We are committed to making flying a pleasant experience for our customers and will stay true to our promise of courteous, hassle-free, on-time and affordable travel," he said.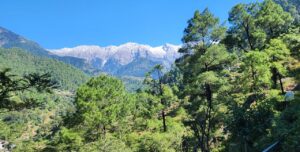 About Dharamshala
Dharamshala is a beautiful and serene hill station in the Kangra district of Himachal Pradesh. It is the state's winter capital and home to the spiritual leader, the Dalai Lama and the Tibetan government in exile.
The stunning mountain views and lush green landscape of the valley draw visitors from all over the world. It is a popular destination for those seeking to explore Buddhism and its origins.
The local markets in Dharamshala are full of vibrant colours and offer a unique shopping experience. The town offers a range of activities, including meditation and yoga classes, cultural tours, and visits to monasteries and temples.
There are also plenty of opportunities to explore the stunning natural surroundings, from trekking in the Himalayas to enjoying the cool mountain air. With its mix of spiritual heritage and natural beauty, Dharamshala is a great place to visit for anyone looking for a unique experience.
Delhi-Dharamshala IndiGo Flight Schedule
Flight 6E 7483 will depart from Delhi on a daily basis at 6:40 and arrives at the Gaggal Airport in Dharamshala at 8:25. The return flight 6E 7484 will leave Dharamshala at 8:45 and land in Delhi at 10:25.

Taking off from Delhi at 11:10, flight 6E 7485 (four times a week) will arrive at Gaggal Airport at 12:55. Flying back to Delhi, flight 6E 7486 will depart Dharamshala at 13:15 and arrives in Delhi at 14:55.
---
Currently, SpiceJet and Air India operate two flights each way between Delhi and Dharamshala daily. With the addition of IndiGo's new flight, the number of daily flights to Delhi from Dharamshala will increase to five. This will offer more flexibility for travellers, allowing them to choose from a range of departure times and fares.