Delhi: Indian Railways will establish a World Class Wrestling Academy at Kishanganj, New Delhi. The railways have sanctioned Rs 30.76 crores for the academy.
As per the press release by Indian Railways, the academy would be the biggest in the country. The academy would allow many budding wrestlers to become champions in the coming years.
The wrestling academy is in line with the vision of Primer Minister Narendra Modi to provide the best sports facilities to sportspersons. The academy at Kishanganj will be exclusively for wrestling.
Equipped with advanced training facilities, the academy will provide ample opportunities for wrestlers to enhance their skills utilizing advanced training facilities.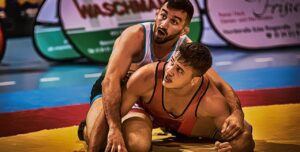 Indian Railways in sports world
Indian Railways have been instrumental in promoting wrestling in the country, and most of the acclaimed wrestlers are from railways. The majority of India's Olympic wrestling medals came from Indian Railways, including Sushil (2008 &2012), Sakshi Malik(2016), Ravi Kumar, and Bajrang (2020).
The performance of Indian Railways athletes at the just-completed Tokyo Olympic 2020 was outstanding.
Out of seven medals won by India, three Individual medals were won by the railways' sportspersons.
Mirabai Chanu (Silver in weightlifting), Ravi Kumar (Silver in Wrestling), Bajrang (Bronze in wrestling), and in Bronze medal winner Indian Hockey Men team, two players were from Indian Railways.
9000 athletes employed with Indian Railways
The Railway Sports Promotion Board (RSPB) of the Indian Railway contributes significantly in promoting sports in the country. Railways have aided many athletes by providing employment security and numerous incentives.
Indian Railways currently employs over 9000 athletes across 29 sports disciplines. Railway athletes have won medals in all major sporting competitions, including the Olympics, Asian Games, and Commonwealth Games.
Railway athletes have received 27 Padamshree, 176 Arjuna, 12 Dhyanchand, 14 Dronacharya, and 9 Major Dhyan Chand Khel Ratna Awards for their remarkable sporting achievements.