Shimla: Amid a decline in Covid cases, the Jai Ram Thakur government in Himachal Pradesh has decided to reopen all educational institutions in the state from Thursday onwards.
The Cabinet meeting held under the chairmanship of Chief Minister Jai Ram Thakur decided to open the schools for class 1st – 8th from February 17, 2022. Schools for the 9th to 12th have already been opened in the state.
The examinations of non-board classes in summer schools will be held offline mode.
The Cabinet also allowed the opening of gyms and cinema halls in accordance with Covid protocols.
Himachal Pradesh Cabinet decisions
The Cabinet decided to grant revised pension/ family pension to about 1.73 lakh pensioners/family pensioners of the state from February 1, 2022. This decision would ensure the revision of pension/family pension of 1.30 lakh pensioners/family pensioners from January 1, 2016.
In addition, about 43,000 employees, who have retired between January 1, 2016, and December 31, 2021, would also get revised pension and gratuity. Now minimum pension/ family pension would increase from Rs 3500 per month to Rs 9000 per month from January 1, 2016.
It also gave its nod to increase the limit of gratuity from Rs 10 lakh to Rs 20 lakh from January 1, 2016, which would also be applicable for NPS employees.
Pensioners/family pensioners above 80 years would get additional pension benefits on revised pension/family pension.
The Cabinet also decided to provide Invalid Pension and Family Pension to NPS employees of the state government, on which Rs 250 crore would be spent. It also decided to provide 31 percent dearness relief to the pensioners from July 1, 2021.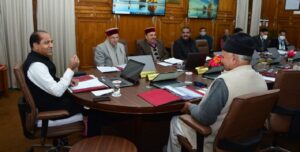 An additional annual expenditure of Rs 1785 crore would be incurred on the revision of pension. The state government had already provided Rs1450.44 crore to the pensioners as interim relief.
The Cabinet gave its approval to create and fill up 8 posts of Sub Fire Officers in the Himachal Pradesh Fire Services Department on a contract basis through Himachal Pradesh Staff Selection Commission.
It also approved opening three new Sub Fire Stations at Dheera in Kangra district, Bhatiyat in Chamba district, Rewalsar in Mandi district, and three new Fire Posts at Chirgaon in Shimla, Bhoranj in Hamirpur district, and at South Portal of Atal Tunnel Rohtang.
It also gave its nod for creating and filling up of one post of Sub Fire Officer, 2 posts of Leading Fireman, 14 posts of Firemen and six posts of driver-cum pump operator in each newly created Sub Fire Station and one post of a leading fireman, 12 posts of firemen and four posts of driver cum pump operator in each newly opened Fire Post besides sanctioning one Type-B Water Tender, one Water Browser and one CO2 vehicle for each newly opened Sub Fire Station and one Type-B Water Tender and one Quick Response Vehicle for each newly created Fire Post.
It decided to notify Sardar Patel University Mandi, Himachal Pradesh (Establishment and Regulation) Act, 2022 from April 1, 2022, to set up a new State University at Mandi.
The Cabinet also decided to upgrade Government Middle Schools, Doldhar, Bag Chuwasi, Jachh and Kandi Tikkar in Mandi district, Government Middle Schools Neoli, Meha and Shaleen in Kullu district to Government High Schools and Government High Schools, Haraboi, Kahnoo, Richhani, Palahota, Chambi in Mandi district and Government High Schools Doghari, Sari, Jinduar and Hallan-I to Government Senior Secondary Schools along with the creation of 82 posts of different categories.