Dharamshala: Excitement in Dharamshala reached new heights on Wednesday as the prestigious ICC World Cup trophy landed at Gaggal Airport, receiving a warm welcome from cricket enthusiasts and locals alike. Amidst a wave of celebration, the iconic trophy made a grand entrance, setting the stage for an unforgettable spectacle.
Cricket fans and curious onlookers gathered at the airport ahead of time, eagerly awaiting this historic moment. As the trophy was placed on a magnificent podium for photographs, the crowd surged forward, jostling to catch a glimpse of the coveted prize. The atmosphere was filled with an electrifying sense of joy and anticipation.
Also Read: Fly Direct To Manali From Amritsar With Alliance Air
The trophy was then carried through the charming streets of Dharamshala, igniting a sense of pride and enthusiasm among the local population. Meanwhile, local artists performed the traditional Natti dance as the trophy made its way through Dharamshala.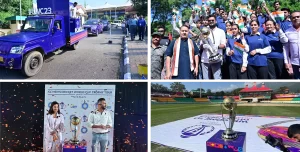 The trophy was also brought to the war memorial, where a considerable number of young people and residents had the opportunity to capture photographs with it.
From there, it continued its journey, passing through prominent locations such as the Civil Lines area, Kotwali Market, McLeod Ganj Main Square, and the revered Dalai Lama Temple. The presence of domestic and international tourists added a global touch to this joyful occasion.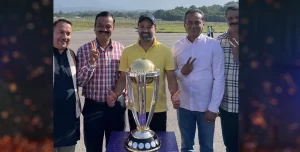 The trophy then made its way back to Dharamshala. Arun Kumar Dhumal, the President of HPCA and Chairman of IPL, stated that hosting the World Cup matches in Dharamshala would promote its status as a global tourist destination.
Also Read: A Short Guide To Attending A Dalai Lama Teaching In Dharamshala
Afterward, the trophy was taken to the Dharamshala International Cricket Stadium, the venue where cricket history is set to be made in the coming weeks. The town is poised to host five ICC World Cup matches next month, promising an unforgettable cricketing adventure in the stunningly beautiful Himalayan settings.