Shimla: Himachal Pradesh government has released an amount of Rs. 35.17 crore for restoration of essential services in the state following heavy snowfall. Chief Minister Jai Ram Thakur stated this while presiding over the meeting with the senior officers of the State Government to review the situation arisen due to heavy snowfall in the State.
Chief Minister directed the officers to ensure that all the essential services in the State affected due to heavy snowfall be restored immediately. He said that about 1093 roads in the State were closed for traffic due to the snow out of which 204 would be restored by the evening. He directed the officers to ensure that all the remaining roads should be restored by tomorrow evening. He said that adequate men and machinery be deployed to ensure that the roads were reopened at the earliest.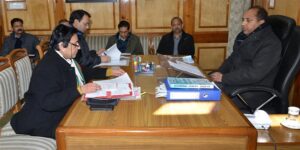 Jai Ram Thakur said that the PWD department must ensure that all the roads leading to essential services such as hospitals be given priority so that the patients does not face any hardship. He said that as many as 25 roads had been adversely affected in the State due to heavy snowfall. Over 415 water supply schemes have been affected due to the snow. He said that 120 water supply schemes in Mandi district, 60 in Kinnaur district, 89 in Chamba district, five in Kangra, 43 in Kullu and 25 in Rohru circle has been adversely affected. He said that most of these schemes would be restored by today evening and the remaining would be restored within a day.
Jai Ram Thakur said that power supply was also badly affected in several parts due to heavy snowfall. He said that the same would be restored in all district headquarters and efforts would be made to restore power supply in OSD of the parts by evening. He directed the State Electricity Board Authorities to ensure that the power supply in other parts of the State was restored within a day.
Chief Minister also directed the BSNL authorities to ensure that the BSNL services be restored at the earliest so that the people does not face any inconvenience in communication. He said that as many as 15 Satellite phones would be provided soon at all district headquarters and three tribal subdivisions of the State. This would ensure effective communication facilities at the time of natural calamities, he added.