Shimla: Himachal Pradesh Government has intensified efforts to develop Mandi as a major stopover for the tourists heading towards Kullu – Manali. For the purpose, the state government will construct a ropeway to Mata Baglamukhi Temple, near Pandoh in Mandi district on the Chandigarh-Manali National Highway, the foundation stone of which was laid by Chief Minister Jai Ram Thakur on Sunday.
The 800-meter long Mata Baglamukhi Temple Ropeway will pass over the river Beas and is slated to complete within a year. This ropeway is the first in the state to be built after the Government of India has allowed the construction of ropeways through NABARD funds for rural connectivity.
Mata Baglamukhi Temple Ropeway will be constructed at Rs 50 crore
Addressing the people at Bakhli, the Chief Minister said that Baglamukhi Ropeway would be constructed within a year by spending an amount of Rs 50 crore. The 800-meter long ropeway will reduce the travel time from Pandoh to Baglamukhi temple to five minutes.
He said that the ropeway would be built by M/S Doppelmayr India Pvt Ltd and BEKAM Infra Ltd using Aerial Tram Way technology and per CEN Standards on Engineering Procurement and Construction Mode. He said that one terminal of this ropeway would fall in the Drang constituency area and another in the Seraj constituency.
Jai Ram Thakur said that the matter for seeking higher VGF for ropeway projects on PPP mode with cost-sharing by the Government of India and State in the ratio of 90:10 has been taken up with the Union Government.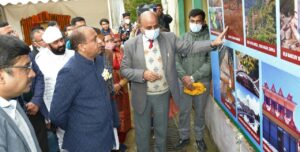 Four more ropeways to come up in Himachal Pradesh
The Chief Minister said that the state government has also posed four ropeways to National Highway Logistic Management Limited for funding to the centre. He said that out of these DPR's one has been prepared for ropeway from Bharmour to Bharmani Mata Temple in Chamba district to be constructed at a cost of Rs 120 crore.
He said that other ropeways posed for funding are Rs 605 crore Palampur-Thaatri-Chaugan in Kangra district, Rs 200 crore Bijli Mahadev in Kullu district and ropeway from Shirgul Mahadev Temple to Churdhar in Sirmour district.
Shiv Dham in Mandi will foster tourism in the region
Thakur said that Eco-Park at Bakhli would also be completed by next month to facilitate the tourists and local people. He said that work on the first phase of Rs 150 crore Shiv Dham was going on in a fast pace, which would be an added attraction for the tourists and local populace.
He said that the government would make an effort to link the Nature Pak at Bakhli with this ropeway in the second phase.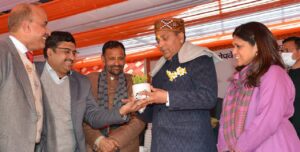 Nayi Raahein Nai Manzilein scheme for developing new destinations
The Chief Minister said that the new tourist destinations were being developed under the Nai Raahein Nai Manzilein scheme. He said that Largi, Pong Dam and Kol Dams were being developed as water sports destination, Bir-Billing as adventure sports destination and Chanshal as winter sports destination.
Similarly, he added that the Janjehli area in Mandi district was being developed as an eco-tourism destination.
Earlier, the Chief Minister performed Bhumi Pujan of Industrial Estate Pandoh Phase-1 at Pandoh in Mandi district. He said that an estimated 30-35 sheds would be constructed, in which priority will be given to handloom and fashion design.
He directed the concerned authorities to transfer the adjoining 12 bighas land for the second phase of this Industrial Estate.
State Government is striving hard to make Himachal an industrial hub
Jai Ram Thakur said that the state government was also striving to make Himachal Pradesh an industrial hub of the country. He said that the Global Investor's Meet was held at Dharamshala in 2019, which was graced by Prime Minister Narendra Modi.
Also read: Govt Committed To Make Himachal Favourite Investment Destination: Jai Ram Thakur
He said the 2nd ground-breaking ceremony was held at Mandi again in the august presence of the Prime Minister, in which as many as 287 MoUs worth Rs 28,197 crore were signed on the occasion.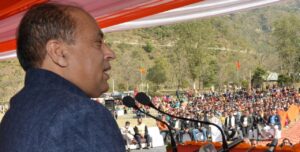 Himachal Chief Minister said that the Government of India has approved the first Medical Device Park in Nalagarh, with a project cost of about Rs 350 crores. He said that a grant of 100 crores would be made available from the Government of India for this Park. He added that it will have an estimated capital investment of about Rs 5000 crores and employment of about 10,000 people.
On the occasion, a two-minute silence was also observed as a mark of respect for legendary singer Bharat Ratna Lata Mangeshkar, who breathed her last in Mumbai's Breach Candy hospital on Sunday.