(By Imtiaz Ullah)
In a unique initiative, The Traveller Trails Magazine will open 'Café The Traveller Trails' in different corners of the world. 'Café The Traveller Trails' is a business initiative by The Traveller Trails Magazine and NomadLawyer with a view to promote community based tourism. First café is being established at Lombok in North Indonesia in collaboration with tour guide Roshid Basri. Revenue will be utilized for upliftment of the society/local community and provide education to the children who can't afford quality education.
We also plan to set up a community based library along with the café. The library shall be used by the local community, tourists and shall be used as a place for knowledge sharing and transfer of knowledge. Library will contain books in English and vernacular languages.
Location: Bayan, Lombok, North Indonesia. Seating Capacity – 15- 20
Why we selected Lombok:
Indonesia is known for making the best Coffee in the world. I am not talking about Luwak Coffee but I am referring to Lombok Coffee. Coffee making runs in the blood of people from Lombok. I learnt this when I spent time with my friend Roshid and his family in Lombok.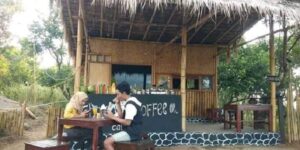 The families secret ingredient is love, that they put into making this coffee. I learned the importance of family, working together and enjoying the little moments. I have known Roshid for a long time now and I met his family when I was in Lombok in August, 2019.
I tasted both Luwak and Lombok coffee and without mincing my words, I can say Lombok Coffee (my personal choice) is better.
With our love for Lombok coffee and the bond we share, we dreamt of promoting Lombok coffee as it requires it's due recognition. We are living this dream and turning it into reality by setting up this local coffee shop. We hope to travel a long way forward.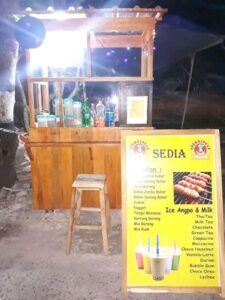 We envision this coffee as:
● A community-based tourism project aiming at profitable and sustainable activity that enhances the environment while adding value to the experience of both locals and visitors.
● It directly involves the community – providing both social and economic benefits.
● Its ultimate goal is to satisfy consumer expectations without harming the community interests.
● It is market driven and has to meet high standards in order to be sustainable.
● It will aim towards benefiting the society and drive to educate, train, develop, encourage, and utilize any skills and human potential within the community, towards the delivery of professional service.
● It will be operated within a business structure that adheres to government regulations, financial obligations, good labor relations and sound management systems.
● Members of the community are expected to exhibit friendliness, honesty and professionalism amongst themselves as well as in their dealings with the visitor to ensure the integrity of the project and successful running of the 'Café The Traveller Trails'.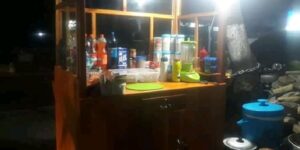 Some questions that came to our mind:
● Will the project enhance environment while adding value to the visitor's experience?
● Will the project be developed, operated and protected by the community?
● Will the project provide social and economic benefits to the stakeholders/shareholders?
● Will the project be operated with sound ethical business practices including adherence to regulations and standards set by government, agencies, stakeholders, shareholders and consumers?
● Will the project offer professional services and value to the visitor and be competitive in the global marketplace? The answer to the above questions is "YES" and with this positivity, we think our project will see the light of the day.
Action Plan:
1. Choose a destination
2. Complete a feasibility study with the community
3. Set up an administrative system
4. Prepare for operation
5. Monitor and evaluate
Next time you are in Lombok, visit 'Café The Traveller Trails'. We will be more than happy to welcome you.
If you wish to donate for the coffee shop, and help the local community, please do write to us.
Nomad Lawyer is a travel site dedicated to transformative travel, responsible tourism, eco-tourism and caused based travel, where the readers will be enriched by intriguing travel experiences, a sneak peek into the travel laws of a country and an overview of various projects relating to social responsibility and volunteer tourism.