Bijli Mahadev – A Temple in Kullu that You cannot Miss
The place where Lord Shiva killed the dreaded demon, Jalandhar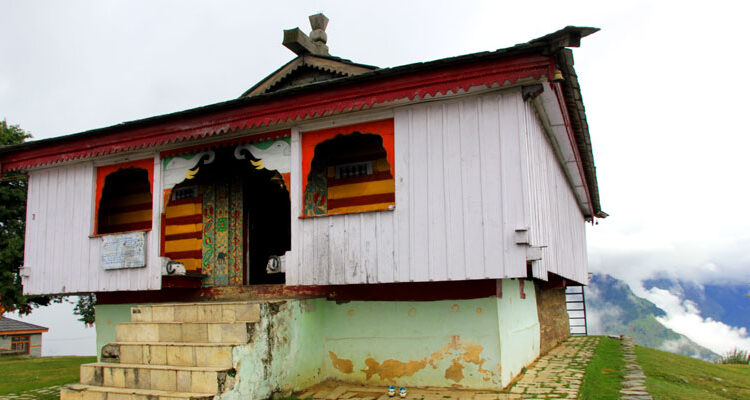 Bijli Mahadev is an old and historical temple perched on top of the Mathan hill dedicated to Lord Shiva. From one side one can have the view of Kullu & Parvati Valley and on the other side one can see an amazing view of the Beas river. The view from the top is amazing. The temple gives you an immense feeling of serene silence and peace desired.
This place got its name after a great miracle that happens here, occasionally. The 'Shiva-Lingam' is struck by lightning and it breaks into pieces, then the priest of the temple collects all the pieces and joins them together with the help of butter acting as an adhesive. During 'Shivaratri' every year, great rush of devotees gather here to pay homage to Lord-Shiva. As per another legend, this is the place where Lord Shiva killed the dreaded demon, Jalandhar. Lightnings from the skies used to damage the habitation; subsequently a temple was erected as per the mandate from Lord Shiva in order to protect the nearby regions from frequent lightings from the sky. After being built, this temple has prevented lightning from damaging the habitat around it. The belief is that, Lord Shiva has been absorbing the lightnings himself, thereby saving the nearby inhabitants from the wild fury of Mother Nature.
Bijli Mahadev is an easy hike through a beautiful forest to the top of the hill. A total of 3 kms trek is rewarding and mostly on a good built track where one gets 360 degree panoramic view of beautiful peaks of Parvati valley and Pir-Panjal ranges of the Himalayas. Most significantly, one can feel the presence of the great god Nilkanth! Overall it takes around 4-5 hours to get down after embracing the ultimate scenery of the trek!
TRAVEL INFO
LOCATION: Kullu (Himachal Pradesh) HOW TO REACH: Bijli Mahadev (2460 m) is located at a distance of 22 kms from Kullu across the Beas river. WHERE TO STAY: Kullu town is best option for overnight stay.