Delhi: The world-renowned Lord Venkateswara temple in Tirupati has a net worth of over Rs 2.5 lakh crore (about USD 30 billion). This is more than the market cap of state-owned oil companies Oil and Natural Gas Corporation (ONGC) and Indian Oil Corporation (IOC), as well as food and drink company Nestle.
The Tirumala Tirupati Devasthanams (TTD), which runs the Tirumala Tirupati temple, has declared a list of its assets, including fixed and gold deposits of the temple.
As outlined in the white paper, the trust has 10.25 tonnes of gold deposits in banks, 2.5 tonnes of gold jewellery, and about 16,000 crores in bank deposits. In addition, it has 960 properties throughout India. Combined, they amount to more than 2.5 lakh crores.
For the first time since its founding in 1933, Tirumala Tirupati Devasthanams, keeper of the temple dedicated to Tirupati's presiding deity, has disclosed its net worth.
Data from the stock exchange shows that the Tirupati temple is worth more than many blue-chip Indian firms at the current trading price. The market cap of Wipro stood at INR 2.14 lakh crore at the end of Friday's trading session. The market value of UltraTech Cement was INR 1.99 lakh crore.
With a market cap of Rs 1.96 lakh crore, the India unit of the Swiss multinational food and beverage company Nestle was also valued below it.
Oil and Natural Gas Corporation (ONGC) and Indian Oil Corporation (IOC), both state-owned oil companies, were worth less than the temple trust.
Power giant NTPC Ltd, automakers Mahindra and Mahindra and Tata Motors, coal producer Coal India Ltd, mining conglomerate Vedanta, and real estate firm DLF were also behind the Tirupati Temple.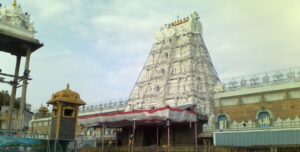 Only about two dozen companies have a market valuation exceeding the wealth held by the temple trust. The list includes Reliance Industries Ltd, Tata Consultancy Services, HDFC Bank and Infosys.
An official with Tirumala Tirupati Devasthanams (TTD) said that the temple is getting richer and richer because more and more people are giving cash and gold to it. Also, banks' fixed deposits bring in more money because interest rates are increasing, which also makes the temple richer.
The temple owns a diverse range of assets. Among them are land parcels, buildings, and cash and gold deposits in banks, all of which were given as offerings by devotees to the temple.
The temple officials said valuing priceless antique jewellery and properties such as cottages and guest houses in the seven hills as amenities for devotees would be misleading. Therefore, these items are not included in the estimated value of the temple as a whole.
Also, the temple trust denied reports on social media that it had invested surplus funds in bonds and securities of the Andhra Pradesh government.
As of 2019, TTD has 7339.74 tonnes of gold deposits, and in the past three years, it has added 2.9 tonnes.