Delhi: Union Minister for Home Affairs, Amit Shah flagged off the New Delhi-Katra 'Vande Bharat' Express, in New Delhi today. This is the second 'Vande Bharat' express after the New Delhi – Varanasi semi-high speed train flagged off by Prime Minister, Narendra Modi in February this year. The coaches of this train are indigenously manufactured at the Chennai Rail coach factory.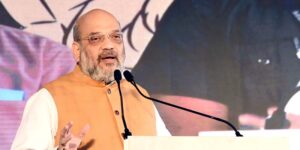 Religious tourism has a very important role in the development and progress of Jammu-Kashmir, said Shah, who was accompanied by Union Railway Minister Piyush Goyal, Union Ministers Dr Jitendra Singh and Dr Harsh Vardhan. Every citizen of India has a desire to visit Vaishnodevi Temple at least once in the lifetime. From the day he took charge, Prime Minister Narendra Modi put forward a vision to connect places of religious interest across the country with a safe, efficient and comfortable high-speed railway network. A number of steps have already been taken by the government to facilitate pilgrims to visit the places of their religious interest. The 'Vande Bharat' express is one big step in that direction while keeping in mind speed, scale and service as the prime priority, he said.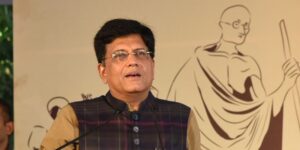 Speaking on the occasion, Minister of Railways and Commerce & Industry, Piyush Goyal said that "Today, Vande Bharat is going to be launched between New Delhi to Katra on the auspicious occasion of Navratri in the presence of Hon'ble Home Minister of India, Amit Shah. The blessing of Mata Vaishno Devi will give a thrust to the development of Jammu Kashmir and Vande Bharat is an example of that development which is going to start its journey today. The entire family of Indian Railways assure that Indian Railways will always assist Hon'ble Minister of Home Affairs in this series of development of Jammu Kashmir. Vande Bharat will serve like Shravankumar, it will help common people take their parents to Katra.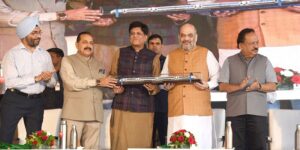 The present Vande Bharat to Shri Mata Vaishno Devi Katra shall be running at a maximum speed of 130 km on this route and shall cover the distance between New Delhi-Shri Mata Vaishno Devi Katra in 08 hours. A reduction of 4 hours from the current fastest train, will thus be achieved. This will meet the demand of passengers for a high speed, direct and premier service to Katra from New Delhi.
More features have been incorporated in this rail service to Shri Mata Vaishno Devi Katra to increase passenger comfort. The area for the pantry facilities has been increased, deep freezers have been added, there is wider access area in vestibules, anti-spall film has been provided on window glasses, individual access panel for window blinds, improvements in washroom amenities, provision of centralized loading of infotainment data, etc. Roller blind sun screen has been provided on look out glass to protect train pilots from glare and improved insulation is there to reduce noise level in driver's cab. Phone handsets have been provided for direct communication between train pilots and guard.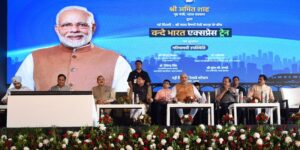 The train has been the outcome of project undertaken by Indian Railways to fulfill the Prime Minister's vision of Make-in-India. The features and amenities of the train match global standards of performance, safety and passenger comfort, with all the major systems being designed and made in India. A quantum jump in meeting aspirations of the travelling public has been achieved. It is anticipated that the advance features and passenger amenities shall provide world class travel experience to passengers and devotees. It is in the fitness of things that this train is being started on the auspicious occasion of Navratra.
Schedule of 22439/22440 New Delhi – Shri Mata Vaishno Devi Katra – New Delhi Vande Bharat Express Train
The regular service of 22439/22440 New Delhi – Shri Mata Vaishno Devi Katra- New Delhi Vande Bharat Express Train will commence from 05.10.2019.
The 22439 New Delhi – Shri Mata Vaishno Devi Katra Vande Bharat Express Train will depart from New Delhi at 06.00 a.m. to reach Shri Mata Vaishno Devi Katra at 02.00 p.m. the same day. In return direction, the 22440 Shri Mata Vaishno Devi Katra – New Delhi Vande Bharat Express Train will depart from Shri Mata Vaishno Devi Katra at 03.00 p.m. to reach New Delhi at 11.00 p.m. the same day. The Train will run six days a week except Tuesday. Comprising of 02 Executive AC Chair Car & 12 Chair Car coaches, the Train will stop at Ambala Cantt., Ludhiana & Jammu Tawi stations enroute in both the directions.