5 days, 1250 kms, Road Trip Across Surreal Himachal
Journey to discover the unexplored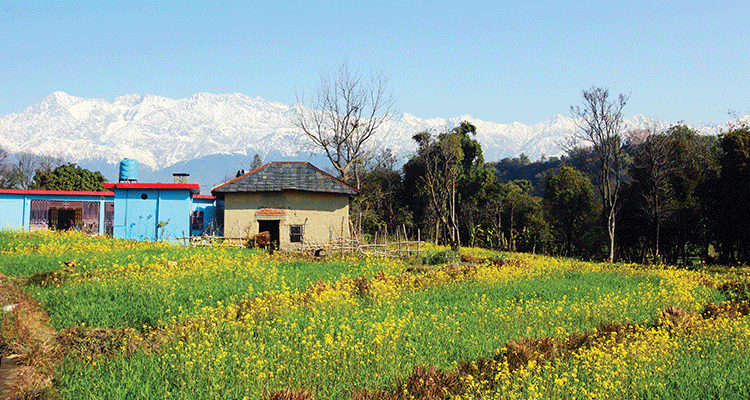 A village near Palampur. Pic: Bhavnesh Sood

(By Imtiaz Ullah) I have always been an ardent admirer of the Himalayas and every now and then, I travel to the Himalayas to find more offbeat places and to understand it's unique cultures and traditions. It has been quite some time since I travelled to the Himalayas and my innate love for the mountains was beckoning me to her laps.
In order to quench my thirst for the path less travelled, I decided to embark on a journey to the Himalayas. This time my goal was not only to take a sip into the beauty of the majestic Himalayas but also to engage in some adventure activities. In order to make the optimum use of the extended weekend during Diwali, we finalized our destination as Palampur- Bir-Billing and Barot Valley. The idea was not only to be in the lap of nature but also simultaneously to go to some places less travelled.
We started our road trip from Delhi at 12:30 AM. Our first pitstop was at the famous Amrik Sukhdev Dhaba where we gorged on some mouthwatering paranthas and resumed our drive. The route taken till Palampur was via Ambala – Rupnagar – Una – Amb – Nadaun – Palampur. After 11 hours of continuous drive, we reached Rajpur which is around 3 kms ahead of Palampur. We checked in to our hotel – Ocimum Palace. To my delight, the hotel was situated right in the midst of pine trees on one side and a tea garden on the other. The lunch offered to us was prepared in authentic Himachali style with roti, plain rice and chicken. After a short nap, we geared up to celebrate Diwali with the locals. People were very hospitable in nature and we burst crackers and rockets for almost two hours while chatting with the villagers. We got a sneak peek into their culture and traditions. After a sumptuous dinner, we retired to our beds. In the morning, after breakfast, we started our drive through Palampur to witness the places which have historical and cultural significance. I was taken aback to witness the beauty of Palampur.
Top things to do in Palampur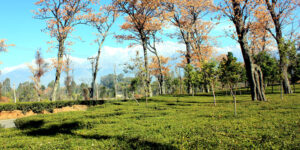 TEA GARDENS
Nestled between the majestic Dhauladhar range, Palampur is well known for its tea gardens and fine quality of tea which possess medicinal values. Bandla tea estate is just 2 kms away and is the nearest to the city center. Along with tea gardens, one can enjoy the beautiful landscape this place has to offer.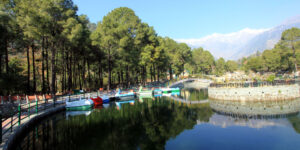 Saurabh Van Vihar
Established in the memory of Martyr Lt. Saurabh Kalia, who sacrificed his life during the Kargil operation on 9th June 1999, Saurabh Van Vihar (2 kms from Palampur) is a nature park overlooking the Dhauladhar range. The park is a symbol of honour for all the brave hearts who laid down their lives in wars for the nation. The park has become a popular picnic spot offering a wide plethora of activities like boating, bird watching and nature walks.
Jakhni Mata temple
Perched on top of the hill offering some of the splendid views of Dhauladhar Himalaya range, this temple is dedicated to Devi Latti Jakhni. The holy shrine is 6 kms from Palampur.
Andretta Art Galley
Andretta (13 kms from Palampur) is the home of the famous artist, Late Sardar Shobha Singh and play writer Late Norah Richards. The portraits of famed Punjabi couples Hir-Ranjha & Sohni-Mahival along with the portraits of Indian national heroes and Sikh Gurus – their life and works are displayed in the art gallery. It is an important art center and a must stop destination for art lovers.
Taragarh Palace
(12 kms from Palampur) The Taragarh Palace Hotel is located at the foot of the Dhauladhars, offering a splendid view of the surrounding snow-capped peaks. Its location at one of India's most coveted hill stations makes the destination a must visit.
Tashi Jong Monastery
(14 kms from Palampur) The monastery is located in Tashi Jong village, which is a small rural area situated between Paprola and Taragarh. Abode of Tibetan refugees and a prominent place of reverence for Buddhists, this monastery belongs to the famed Tashi Jong community. The monastery is one of the best places to imbibe the culture and the colourful traditional artwork of Tibet.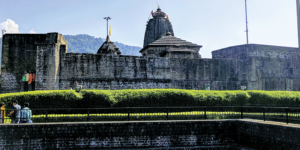 Baijnath Shiv Temple
(15 kms from Palampur) One of the twelve jyotirlingas, Baijnath temple is one of the most remarkable temples depicting the rich Indian heritage. Splendid architectural designs and carvings on the the temple are believed to be associated with Ravana, who worshipped Lord Shiva at this spot and gained immortality. The temple resembles Jagannath temple of Puri. Shivratri is a well-celebrated fair by the devotees of the temple.
Sherbaling Monastery
(24 kms from Palampur) This monastery is the seat of the XIIth Kenting Tai Situpa in India. A quiet walk through the pine forest with colourful Buddhist prayer flags on the sides of the road takes you to the gompa. The monastery has shrine halls, a monastic college, a school, a library, a museum, an exhibition hall and a dispensary. All these nestled deep inside the pine forest. It's like a different world.
Bir – Billing is a very popular place for adventure lovers who wish to indulge themselves in camping, paragliding, and trekking. Bir village also houses a Tibetan monastery.
After exploring Palampur and its surroundigs, we started our drive to Bir-Billing through meandering roads and beautiful landscape. We stopped at a small roadside tapri (colloquial Hindi for "shack") for some tea and maggi. As I was sipping tea, I struck a conversation with the owner who seemed to be an educated person and well versed with politics and Himachali culture. I got to know that he was a law graduate and I was happy to meet someone with same educational background like mine. We shared numbers and bidding him adieu, we started our drive towards Bir.
We reached Bir after a three hours drive and checked into the Forest Guest House. The guest house was constructed by the British and the structure had every semblance of British architecture with huge wooden rooms and a fireplace to keep warm during the winters. Our room was really cozy and perfectly situated on a hill overlooking a village. After resting for a while, we ventured out to the market and to my surprise found that that there was a great hustle and bustle going on and there were many small cafes to chill. There were scores of people including foreigners who had come to Bir in order to experience paragliding from one of best and highest flying spots in the world.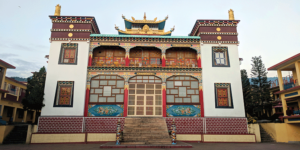 This place has a strong Buddhist essence. We could see many Buddhist prayer flags, gompas and quite a few monasteries. We checked in to a monastery and interacted with some of the monks to understand how they came to this place.
As I was hungry, I had some Tibetan delicacies and returned to my guest house after exploring the beautiful market. For dinner, the caretaker of the guest house had cooked excellent chicken, rice and roti. The food was simple but was cooked with great care and love. I retired to bed soon thereafter as I had to get up early for my paragliding session booked at 9 AM.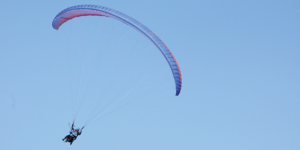 "I was very excited as well as a bit nervous. This was one of the most adventurous moments of my life and I was about to take a plunge from Asia's highest flying point. As the pilot was tying the parachute, I could feel the adrenaline rush through me."
After a light breakfast in the morning, I drove towards the landing point in Bir and from there we were picked up by the car provided by Extreme Adventure and drove to Billing. It's a one hour drive but the road leading to Billing is very narrow and needs a lot of experience to drive on. At last we reached the flying spot.
My pilot briefed me about the dos and don'ts. I was very excited as well as a bit nervous. This was one of the most adventurous moments of my life and I was about to take a plunge from approximately 9000 ft above sea level from the world's second highest and Asia's highest flying point. As the pilot was tying the parachute, I could feel the adrenaline rush through me and as I heard the command: Start running and do not stop. I took a deep breath and started running and in no time I was flying like an eagle, high in the sky. I always dreamt of flying like a bird and
I felt I was living that moment.
During the flight, I could see small villages below and the crystal clear blue sky above. My pilot asked me mischievously, "should I show you some stunts? It would be wonderful when you pen down these experience!" After showing some hesitation I said "yes". He showed me some crazy stunts and I could feel the parachute twisting and turning crazily and at sharp angles in mid air. The father of all the stunts was the somersault wherein I saw both the earth and the blue sky above me in one full circle. After gliding for a full 45 minutes, we gradually descended with memories to cherish for a lifetime. After some rest it was time to drive to the enchanting and the less explored Barot Valley. We started our drive from Bir via Ghatashni. It took us 4 hours to reach Barot.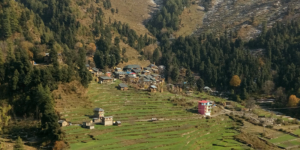 The enchanting Barot Valley – the extra cheese of my trip
The road to Barot is in good condition but have some hairpin turns. In some places, the ascent is quite steep. I could just imagine what would be the state of that road during the rainy seasons. The road leading to Barot will definitely test your driving skills. It is recommended to drive very carefully. We checked into the Forest Guest house in Barot. As I was tired with all the driving, I decided to take rest. After a short power nap, my first target for exploration was the famous hydroelectric project which was built during the British period. Subsequently, I had the first hand chance to see the nearby herbal farming of Barot. Winters had set in and it was getting really cold.
At night, I visited the Paradise hotel for dinner. I had previously tasted Trout fish in many places in Kullu but the trout served here was extraordinary due to its naturally aromatic taste. It was very tender and fresh. We had grilled and smoked trout for dinner.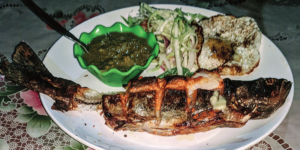 If you are in Barot, do not miss an opportunity to taste the famous trout fish from the Uhl river. Next morning, after a sumptuous breakfast we drove towards the Lohardi village. It was around 6 kms from our guesthouse. The drive to Lohardi village will present some of the most breathtaking views that nature can offer with pine trees on one side and the Uhl river on the other side. Uhl river accompanies you throughout the drive. I couldn't resist but go and take a dip in the river at one of the drier points. The water was freezing cold. This activity is not recommended as anyone can fall sick attempting this, if not properly acclimatised. It has numerous viewpoints to take a break and click some beautiful pictures.
I reached Lohardi and met the villagers who were ever welcoming with a smile on their face. I engaged myself in conversation to take a peek into their culture, traditions and their source of livelihood. Agriculture is the mainstay with terrace farming as the most widespread practice. After spending some quality time with the villagers, we drove back to the forest guest house. We had lunch with trout fish and rice.
I was in no mood to leave Barot Valley and head back to our busy city lives. I must confess, I have truly fallen in love with this beautiful valley and its pristine Himalayan hamlets. We started our journey back to Delhi – to our mundane city life, awaiting my next break to the Himalayas.
TRAVEL INFO
How to reach: (By Air) Palampur does not have an airport. Nearest airport is Gaggal Airport at a distance of 40 kms.
(By Train) One can reach Palampur by famous Kangra valley Train.
(By Surface) Palampur is well connected to the other major cities of North India.
Bir: 30 kms from Palampur. Barot: 54 kms from Bir.
BEST TIME TO VISIT: Palampur and Barot are year round destinations.
Imtiaz Ullah (Travel Writer & Corporate Attorney)