(By Imtiaz Ullah) Volunteer travel is the perfect way to explore the world in a meaningful way. Travelling always does not mean exploring new places or meeting new people there is a greater connotation to it. It can be more gratifying when one travels for a cause.
Mother Nature has given us these beautiful places to explore but it is our social responsibility to travel to these mesmerizing places and give something in return in our own possible ways. This is what I call "Volunteer Travelling" and if we travellers across horizons are aligned on this, we can make this world- a beautiful place to live.
To give a background I am a traveller who believes in travelling for a cause and this blog will give a sneak peak into our journey from Delhi – Gohpur – Mayong (Assam) – the land of Black Magic and now a place of historic significance in order to provide flood relief along with NGO partner Sarvahitey.
The fury of the mighty Brahmaputra and its tributaries
The state of Assam is frequently ravaged by the fury of mighty Brahmaputra and its tributaries causing untold human misery and devastation of indescribable nature. The flood in Assam is such a regular feature and it's our responsibility to provide relief to our people.
My dream turning out into reality
I was sitting at the comfort of my office daydreaming of the untold misery caused by the rivers in Assam and I was really feeling restless as I was not doing anything except for pondering over it. I desperately wanted to take a trip outside the mundane, and help the people in Assam.
Many places were submerged under water, people were deprived of food, shelter and basic amenities, which is required for a normal existence.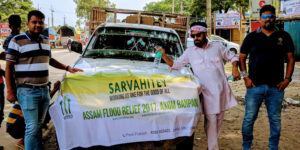 Sarvahitey-NGO from Delhi decides to provide relief to flood affected in Assam
Through Sarvahitey, three friends Prem Prakash(Co-Founder Sarvahitey NGO), Sumitro Chatterjee and Imtiaz Ullah (Advisory members, Sarvahitey) sat down and took a resolve to provide flood relief in Assam every year as and when required. We can't just sit and see people, animal die. We need to help in our small possible ways and honestly, if we think alike on this, it will make a humongous difference to the lives of people.
We decided to embark on a trip to Assam to provide relief and to our utter disbelief and awe we had requests pouring from people saying that they also wanted to be part of this drive and travel with us to the flood affected places.
Assam flood 2016: Here is how our journey unfolds
We decided to provide relief to Gohpur, one of the worst affected areas. Gohpur tehsil is located in the Sonitpur district of Assam. It's a beautiful island in the Brahmaputra River and can be a traveller's delight. Unfortunately no one knows about this place.
Through Sarvahitey NGO, we collected donations, created Fundraiser and reached Guwahati. We got all the relief materials from the local vendors and many well wishers and friends in Assam also joined in and worked continuously and tirelessly right from packaging to delivering of the goods to the people.
The journey to flood affected area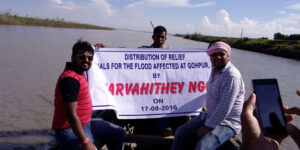 After a long and tedious drive we reached Gohpur, welcomed by the local administration. We walked for 4 kilometres and then took a small boat with the relief materials for an hour to reach Ghutung Chapori- a small riverine island. Though it was very hectic, we were all charged up and there was an urge to do something for the society.
All the villagers gathered at a common place and relief material was distributed to all the people in the village.  The villagers talked at length about the problems caused by flood and soil erosion in their region. This was an out of the world experience for each and every individual associated with this.
Gohpur is a beautiful place with natural flora and fauna. As much we enjoyed the surrounding, we enjoyed engaging with local community equally. The small riverine islands can be traveller's delight. As I put my foot in these unknown places I felt that I have unraveled some hidden treasures. I urge travellers to visit these place get a glimpse of the unexplored north east. The highlight of the trip was that the villagers even in their distress served us with local alcohol made from fermented rice called "Sunga Mod" or "Apong" – it's a must try!
Flood 2017
The year 2017, has witnessed one of the gravest floods in Assam. It was the worst deluge in three decades. The flood killed scores of people and left several hundred homeless. Due to the impact of flood waters, many roads, embankments and bridges have been damaged in several districts. Amongst many places affected by flood in Assam, we decided that our area of operation will be "Mayong- the land of black magic in Morigaon District".
Mayong also known as the Land of Black Magic is a village in Morigaon district, Assam, India. Once considered the cradle of black magic in India, Mayong is a tourist attraction because of its history. We collaborated with the local authorities and with support from the local people we provided relief in three villages catering to approximately 450 families.

When we reached the place after three hours drive from Nagaon district, we could understand and see the dilapidated condition of the people. As the houses of the native dwellers were submerged, people were compelled to rush to somewhat higher parts in the village where animals and humans co existed in perfect harmony.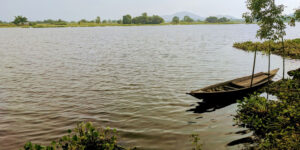 Our heart bled to see the plight of people. I could sense the wrath of Mother Nature and understood how a river that gives everything to the people and a river whom we worship "Namami Brahmaputra" can turn into a river of sorrow.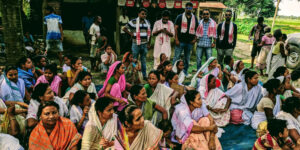 We pray that Assam is relieved of the flood menace and Mother Nature to have some mercy on the people of Assam. But we promise as a when there is a requirement, we as responsible travellers will be always there.
Relief Material provided by Sarvahitey:
• Rice, Oil, Lentil, Salt, Tents to house 400 families, Mosquito Nets, Mosquito repellents, ORS, T-Shirts, drinking water.