Uzbekistan: The Gem of Central Asia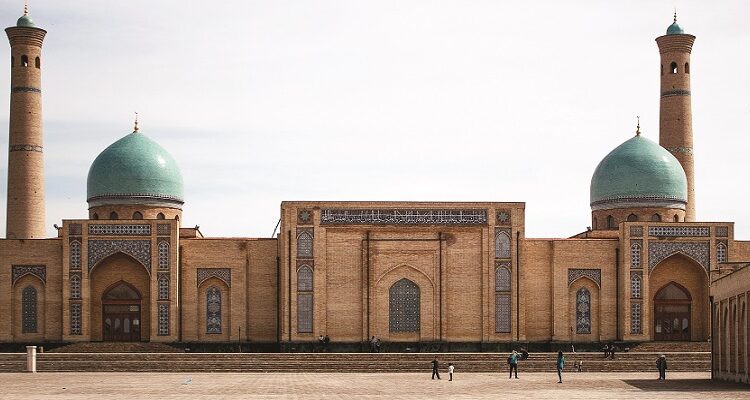 Image by Татьяна Емельянова from Pixabay

By Sabi Ahmad
Uzbekistan forms the second largest landlocked country of the silk route region between China and Russia. Known for its rich cultural heritage and ancient history, the country once formed part of the erstwhile USSR. The population, mostly Islamic, follows Russian culture. I chose this country for two important reasons. Firstly, its famous and impressive shrines, mosques and perfectly planned old cities. And secondly, it's away from the hubbub of touristy places.
My mobile rang during a busy office afternoon.
"Do you wanna visit Tashkent?" asked the voice on the other side. Before I could frame a feeble excuse, the caller continued, "No ifs and buts. I have got a great package. Let's go! We shall rock the party!" And the caller hung up.
For the reader's information, that was my friend – Tariq who shall be a part of this travelogue. Knowing there was nowhere to run, I had to give in to his demands.
I could not believe that I was about to embark upon my first foreign trip. But huge hurdles stood in my path in the shape of not possessing a passport and availability of finance to get an international trip into motion. Viewing images of Uzbekistan over the net provided me the much needed impetus and within the next four days, I applied for a passport, got it finalized and delivered to me after an immediate police verification. I also got my visa and tickets booked simultaneously. Yes, my first international trip in the form of Amir Temur's birthplace was about to start exactly in a week's time!
The kickoff day of the trip arrived. We had our flight booked through the national airline of Uzbekistan-Uzbekistan Airways. Interestingly, no Indian carrier flies directly to Uzbekistan. Major carriers plying this route are Uzbekistan Airways and Air Astana. Inside the flight, we were greeted by pretty Uzbek and Russian air-hostesses. The meal provided is of both ethnicity – Indian and Uzbek. The Uzbek meal consisting of a slice of grilled meat coupled with brown bread and boiled peas was a bit bizarre for our taste buds.
After a good 3.5 hours, we landed at Tashkent International Airport. The air distance from Delhi to Tashkent is only 1578 kilometres which takes a total of two hours. However, the remaining time is consumed during take-off and hovering over destinations due to air traffic. As I approached the custom check, the official greeted me with "Privyet, Mister Sabi" ("Hello…") and I was allowed to proceed towards the luggage check. Amazingly, our luggage was excluded from being checked and the officials assisted us towards the exit with a "Enjoy your visit in Tashkent". I observed that they were only excluding Indians from baggage checking. A commendable hospitality gesture!!!
We were soon greeted by our guide and driver Akram, who spoke fluent English apart from other regional languages. He offered to be our driver for the whole trip. Hallelujah,we were in Uzbekistan!
The weather was lively and enjoyable. No one uses diesel in Uzbekistan. All vehicles except freight truck and generators run on petrol which is dirt cheap there!!! It's INR 35 to the litre!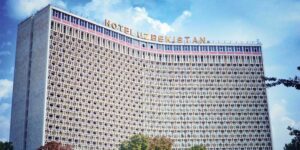 On our way to the hotel, I observed only 'General Motors' vehicles plying on the road. Turned out that a GM factory, jointly owned by the Uzbek government is the only car manufacturer in the region. Steep import taxes make foreign cars costly, making any cars that aren't a Chevrolet or a Daewoo (or a Soviet-era Lada) a rare sight in Uzbekistan.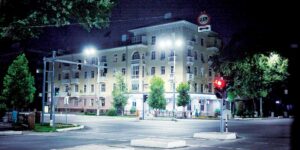 Despite being a country where two wheelers consist of only one percent of the traffic population, there were no traffic jams!! People strictly follow the traffic rules without the presence of traffic cops or speed cams on the road.
Our hotel was a property jointly owned by the government. It was a four star hotel with all basic amenities. Weird that there was no jet spray/faucet in the English toilet. Maybe they believe in water conservation!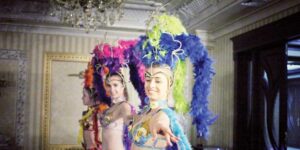 We were told to freshen up and proceed towards the dinner hall where our Uzbek supper was waiting. But it wasn't just the food that captivated our attention, it was the Uzbek female belly dancers who stole the show. It is the Uzbek way of welcoming guests. Almost every fine hotel offers belly dance show post lunch.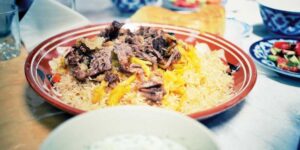 The food was similar to the Mughlai cuisine. Akram advised us to visit the city market if we were keen on tasting their famous 'Plov' post dinner. He took us to their famous 'Aurum' club which was the essence of the city's nightlife. This was the biggest and most happening club that we witnessed so far anywhere, reminding us of Hollywood movies and 'Casino Royale'.
The subsequent day was the tour of the mighty Chimgan mountains and Charvak reservoir which are a three hour drive from the city. We needed to convert the dollars that we had taken with us to Uzbek Soms. Now that is where it gets crazy! 1 USD equals 7800 Soms and, since we had total USD 1000 with us, our takeaway was 78,000,00 Soms!! Imagine travelling through an international airport with a bag full of foreign currency. That was the only reason we had taken dollars from Delhi instead of Uzbek Soms. We exchanged our currency in the hotel. The best thing about Uzbekistan is that you find official currency exchange points mostly everywhere.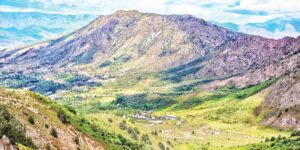 The Chimgan Mountains and Charvak Lake are the favourite sightseeing and relaxing place away from the town. Also called as Mini Switzerland of Central Asia, the place is a hub of adventure water sports and breathtaking chair-lift ride.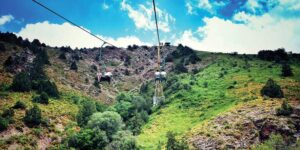 The chair lift is basically a two-seater cable car which takes you to a height of 2500 metres with typical Russian style protection for the passengers – literally nothing. Reaching the top, we had a nice view of the marvellous flora and fauna and bordering Kazakhstan. Next up was the Charvak Reservoir.
Charvak reservoir is an artificial lake which caters to the water supply of the cities. Before proceeding to the Charvak lake, we had a sumptuous lunch at the Charvak Oromgohi – The Pyramid Hotel. The lunch consisted of sweet cake-like bread and meat curry with salads. So much gluten for an Uzbek food!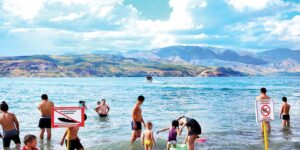 The Charvak Lake seems to be a combination of French beach and Pangong Tso lake of Ladakh, India. The water was crystal clear and was actually drinkable. One can enjoy water sports here at prices cheaper than that we see in Goa. After having a long bath at the beach, we returned to our hotel. Dinner was again accompanied by the belly-dancing show and gladly it happened till our last night there.
Our next day was quite exciting. The itinerary included a day in the settlement township of Samarkand, one of the world's most ancient cities and birthplace of Amir Temur. We planned to reach this historic city by the Afrosiyob, the famous Talgo Bullet train. Akram dropped us at the station and told us that we would be meeting another guide named 'Ailiya' at the Samarkand station. After the customary security check/ frisking, we saw how a bullet train looks like in actual life. Once seated comfortably inside, we were given croissants to relish during our journey.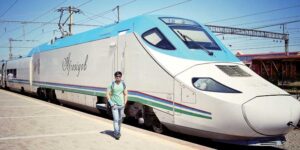 The train steadily started speeding up. The average speed ranges between 180 – 210 km/h. The maximum it reaches is 240 km/h, as per the stats displayed on the TV screens. The bogey insulation was so good that we didn't feel the speed even a bit. The 344 km journey took a total of 2 hours and 8 minutes. Well, that was fast!!
Outside the railway station, we met Ailiya. She was a forty-five year old lady and mother of two kids. The women there look much younger than their age and Ailiya was no exception! Just like Akram, she was our guide cum driver.
Ailiya took us to the famous 'Gur-Emir Mausoleum' where we learned about and saw tombs of Temur along with three other Temurid governors, sons of Temur – Miranshah (1366-1408), Shahruh (1377-1447) and his grandson Mirzo Ulugbeg (1396-1449). The insides of the tomb were embedded with elegant turquoise arabesques and the inscriptions in gold. Yes! Real gold; that too without any tight security.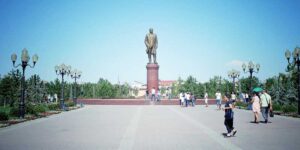 Since we were craving to taste the famous 'Plov' again, we asked Ailiya to take us to a restaurant which catered for the same. The plov is made of rice, pieces of meat, grated carrots and onions. The quantity served is very generous as it is meant to be shared between 3-4 people. The total bill was INR 450 which I felt, was a bargain! Post lunch, our guide took us to the 'Registan Square'.
The Registan Square is a gem of a place located in the heart of the ancient city of Samarkand. It has gained worldwide fame, all credit to the great architectural ensemble that has become a monument of the oriental architecture.
The Registan Square is surrounded on three sides with the grand madrassah, portals of which are facing the centre of the space. All three erections have their own unique décor. We had a good sightseeing of the monument and did some shopping of the jewellery and hand-crafted items from the shops located inside the monument.
The significance of Samarkand is the beautifully crafted city. Also, it is the only city of Uzbekistan which has tram service as a mode of transport. After the tour, Ailiya dropped us at the station from where we took the same bullet train which transported us back to Tashkent.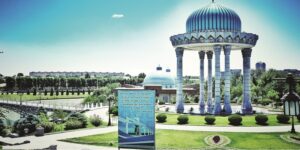 Next day, it was our city tour of Uzbekistan's capital, Tashkent. Akram first took us to the Museum of Victims of Political Repression. The museum is dedicated to the people killed or imprisoned as a result of repressions and persecutions of Russian Occupation. The museum is located opposite the famous Tashkent TV tower, which is the eleventh tallest tower in the world.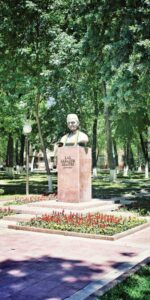 We also visited Shastri Street dedicated to the former Indian Prime Minister Lal Bahadur Shastri who died here during the Indo-Pak accords in 1966. We concluded the day by visiting the grand Minor mosque, the white mosque of the capital with its picturesque and serene white-marble finishing.
The last day was a buffer-cum-free day for us. We were free to explore the city on our own. Akram dropped us at the famous Chorsu Bazaar, similar to Sarojini Market of Delhi. The prices of clothes and shoes were on the higher side which deterred us from buying anything there. What we did find interesting was that the prices of chocolates, perfumes from Turkey, cigarette and alcohol which were dirt cheap there. For $100, you could buy these in abundance for your whole family, even if it was a pretty huge one!
At lunch time, we decided to go to the Samarkand Darvoza Mall to have some KFC delicacies. A taxi was summoned and we hopped into it. Taxis there are mostly Matiz or Beat or Nexia. Unfortunately, no Uber there. If you want one, you have to wave to stop one. The fare was amazingly low and averagely in the range of INR 100-200.
People here have a unique interest in Indians. It might be mostly due to craze for Bollywood among the Uzbeki youth.
Shahrukh Khan, Amitabh Bachchan and Aishwarya Rai are household names there. Raj Kapoor is the older generation's favourite though. Although the population is mostly Islamic, however the culture is strongly influenced by Russia and people strongly believe in secularism. Female ratio is more than men. A full body, post-lunch massage near the mall entrance cost me only INR 120 for approximately forty minutes. The massage chairs are placed at every major tourist points across the city.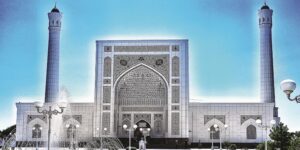 Since, it was our last day in the country, we spent our cash on memorabilia stuff we could get our hands on. It was saddening that our trip was coming to an end. We didn't want to bid goodbye to this beautiful Central Asian country.
I gave Akram the remaining cash for his children, a typical Indian goodwill gesture Uzbekis are unaware of. Since my right hand was occupied with holding our luggage, I offered Akram my left hand for a handshake, to which he replied, "When in Uzbekistan, always use your right hand to shake hands, Dasvidaniya!"
---
TRAVEL INFO
How to Reach:
By Air: Uzbekistan Airways and Air Astana are major daily carriers. Flights operates from Delhi, Mumbai, Jaipur and Amritsar.
By Road: There is a shorter route through Pakistan and Afghanistan borders. Travel at your own risk. Another route is through China, Mongolia and South Russia. For more info, look up Dominar Trans-Siberian Odyssey.
---