By RISHI SOOD
Images used in the article are courtesy of Maninder Kohli
As the nation re-opens post COVID-19 lockdown with the Central Government emphasising that states will no longer be permitted to impose lockdowns outside containment zones without it's permission. The states too have come up with their own guidelines.
Considering the Himalayan States, the governments still seems to be in some sort of dilemma. Himachal Pradesh, my home state seems to be fumbling in its objective of revival of tourism.
I was fortunate to have a conversation with renowned mountaineer Mr. Maninder Kohli who was generous enough to share inputs from his recent trip to Kashmir post unlock 4. Following are his thoughts jotted in his words.
---
" I am happy to share that after a long lockdown of 5+ months, 12 of us took a leap of faith and managed a five days of trek in the scenic Himalayan region of Kashmir.
One of the key aspects for a traveller is the assurance of a clear policy for adventure tourists entering the state during COVID. Some mountainous states like Sikkim and other NE States are still inaccessible during these times. Other states have an ambiguous policy in place like Uttarakhand & Himachal Pradesh in regard to trekking activities. After much deliberation, we came to conclusion that only Kashmir had a clear protocol on tourist entry making it the best choice for our trek.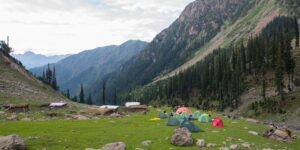 A week prior to the start of the trek, all 12 participants and 9 of our support crew in Kashmir had agreed to limited interaction and self isolation. For the comfort of the group, all 12 participants on the trek took a COVID test two days prior to departure where in all tested negative. All of us used a face mask and a face shield during the flight. On arrival at Srinagar, tourists were required to do a compulsory Rapid COVID Test and within an hour of being tested negative, we were free to travel anywhere within Kashmir.
By late afternoon we reached Pahalgam and started our trek to Lidderwat. Two days later we camped at Tarsar Lake 3780m. We completed our 48 km long trek in the Sind Valley near Sonamarg by crossing the Sonmasti Pass.
On the trail we met several trekkers predominately from Kashmir and found the area safe and settled from a tourism perspective. I am sharing some images of Kashmir with you and strongly urge you to look at trekking in Kashmir, as it's a pure paradise for adventure lovers.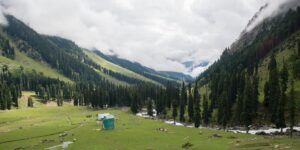 My idea of sharing this background is to echo the sentiment that it's now time for us to resume our normal lives by travelling with abundant caution, and in doing so support mountain communities whose mainstay is tourism. This can only happen if other mountain states establish clear guidelines for tourists, just like Kashmir has done, and all of us are able to shake the COVID monkey off our back."
——– Maninder Kohli
---
In the midst of such developments, the Himachal Government should have some thoughtful discussions and deliberate upon the Kashmir model to revive the state tourism, else most would suffer both financially and health wise, just like famous Chacha-Chachi of Batal who tested COVID positive and is living and working in fear.