By Shabbir Khambaty & Swapnil S Bhole
Our everlasting love for the Himalayas takes us to places less explored. Travelling through bouncy and unwinding roads along with views of majestic mountains gives us a different outlook and meaning to life. Hence this time we decided to visit another lesser known hidden paradise called Pangna. It was the capital of erstwhile Suket, now known as Sundernagar.
Pangna lies in Karsog tehsil in Mandi district and is 102 kilometres away from Shimla. It is situated at an elevation of 2065 metres above MSL. This pretty village is home to around 1200 people (as per 2011 census) with roughly 250 houses. It is situated in a valley surrounded by mountains, apple orchards and lush green farmlands from all sides. The road to Pangna is also an alternative route to Shimla. This route is preferred if planned travel is towards Shimla or ahead towards Rampur, Kinnaur, Lahaul and Spiti. The village is still quite small but evolution and modernization have covered its inroads and old structures, which still stand, by new buildings.
The historic capital of Suket, Pangna traces its origin to the Raja Bir-Sen of 765 AD. It credits the origin of its name to the Pandavas. The name Pangna is the dialectal variation over course of time from its parent name "Pandavo ka Angan" modified to "Pandavangan" to finally Pangna. Later Pangna Fort was built by Raja Bir-Sen (765 AD) after defeating the Thakur of Haryana as a sign of his victory. Now it is popularly known as the Mahamaya Devi Mandir, which sits on the topmost floor.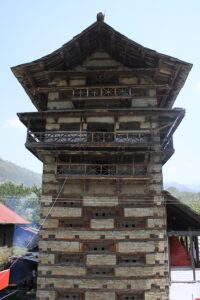 Fort of Pangna stands on a solid stone base which is around 50/60 feet high. Standing high and tall, the fort overlooks the entire Pangna village. It's a six storey structure constructed in traditional Pahadi architecture. Remnants of the old plinth indicates the existence of a huge fort complex surrounding this one, now a temple. It is said that there were six more such structures which served as "sainik chavnis". The advantageous raised position of the temple allowed it to function efficiently as a military tower as well. With tall vertical walls devoid of any foothold or protrusions it became a safe retreat for the royals in case of enemy attacks.
The planning and design of the tower temple suggests that it also had military uses. The temple has a high plinth suggesting it to be a fortress overlooking the entire settlement. The commanding view of the entire village expanse from atop the temple is laudable. Small openings offer minimum exposure while offering ample view of the outside world; an apt tool to combat enemies. Staircase is designed to resist intrusion of enemy by force into the temple. The winding and staggered flight performs its duty vividly. Staggering and ever changing flight directions make one lose his sense of direction, consequently losing speed.
The back side of the temple has three "kunds" or "bavdis" for storage of water. These three bavdis have been so arranged that water from one flows to the other whenever the water in the lowermost drops.
Folklore also suggests the use of these bavdis by the ladies of the royal family where water of required temperature would be filled in the central kund. Today these unused and defunct bavdis are put to preposterous uses like for storage of fire wood and preparation of feasts during village festivals. Other than the degradation of the kunds itself, the smoke takes a heavy toll on the temple facade adjoining it. There are around 9 dry Bavdis in Pangna village, the 9th one was recently excavated in 2011 when some local family intended to build a house and while digging they came across some stones which were placed stepwise eventually leading to a water Source. One can also find Gau-mukhs in the village fields. It acts as a water spout and is kept along a water channel for water to flow from its mouth. Of as many as seven of them claimed to be there, only two are seen in the adjoining field today.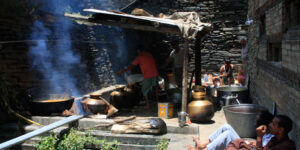 The construction in Himachal Pradesh is distinctive in character and is very different from the rest of India. This exclusive style is reflected not only in the forts, palaces, temples but also in the local residences of the region.
A stroll around the village and one comes across many simple yet beautiful houses. These houses stand out to be an essence of amazing vernacular style of architecture. One just has to walk around the village seeing these houses and meeting its people. No two are the same in size or detail and houses are built closely together. The most remarkable part of few village houses is that they have elaborate carvings done in wood. Balconies, balusters, balcony railings are splendidly carved in wood. Intricately carved wooden brackets are used for supporting the balconies on top.
There is a legend attached with the Pangna Fort. As legend goes the fort was abandoned as a result of some wrong allegations.
The narrative behind abandoning the fort states that once the Princess (daughter of then ruling king) was playing with her female friends. Some of the female friends however had been dressed up like boys for the game which all were playing. This is when one of the Ministers of Suket kingdom saw them playing and complained to the king that his daughter had been seen playing with boys, and also must be having an affair with them. This infuriated the king and he summoned his daughter. The Princess tried a lot to convince and prove to the king that wrong allegations were being implicated on her. All the allegations were falsely proved in the court of the king later on. It was when she was restricted in a small room or kothri.
As a result of this, the princess committed suicide by consuming powdered diamond. The princess asked for a death wish that her body be buried in the courtyard right outside the room in which she was con¬ned. She also added that her body should be taken out exactly after six months. If she had lied that she was actually playing with female friends, her body would be decomposed. But, if she was true her body would be intact even after six months of burial.
After six months the body was taken out and there were no signs of decomposition. This left the King with a heavy heart and the body was again buried in the same place in the courtyard. Soon, seven different trees came out of that particular grave which are worshipped today also.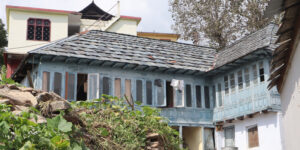 Pangna Village is the best example of living heritage of the architecture of S.E. Himachal Pradesh. These architectural icons form an intrinsic part of the tangible heritage and ways of life in these remote highlands.
Pangna village is an architectural marvel of its epoch and style. It's an epitome of the indigenous Kath- Kunni earth-quake resistant construction technique. is traditional construction science has been transferred through hereditary knowledge systems of Master masons. These ancient systems are still in practice. Built with local stone and deodar wood it best exemplifies the use of local construction material to reach staggering heights. This ancient village acts as a window to the local culture, customs and religious beliefs.
Today, after years of wearing down, only this one temple survives, which too is in a dire need of restoration. Incongruous additions and alterations in the temple pose a threat to the original temple fabric. There is an urgent need to study, document and conserve this village along with its tangible and intangible assets.
TRAVEL INFO
HOW TO REACH:
Location: Pangna lies in Karsog Valley of Mandi district in HP.
By Air: The nearest Airport is about 115 kilometres from Pangna at Jubbarhatti in Shimla.
By Train: The nearest Rail Link is at Shimla (102 kilometres).
By Road: Mandi (65 kilometres), Shimla (102 Kilometres)
ACCOMMODATION: HPTDC Hotel at Chindi, HPPWD Rest house at Pangna and other staying options in Karsog town.
CLIMATE: Hot in summers, cold in winters.
Shabbir Khambaty and Swapnil S. Bhole are practicing architects from Mumbai. Graduating in 2004 they have been passionately involved in research projects and have chosen this path as one of their mainstream career goals alongside working on various interesting architectural and interior projects. They have been doing research in Himachal Pradesh since 2003 and till date have documented around 27 villages including temples, forts, palaces and residences. They are also involved in teaching at Architectural institutes, delivering guest lectures, thus contributing with knowledge and ideas at the grass root level towards paths less chosen.