Lodhi Garden- A Perfect Recipe of Blended Artwork and Architecture
Perfect place to seek some solitude in the heart of Delhi
Photo: Imtiaz Ullah

(By Imtiaz Ullah) The Lodhi Garden- a perfect recipe of blended artwork and architecture of Hindu- Muslim culture, developed and named as Lady Wellingdon park and later renamed as Lodhi Garden by the Britishers.
Away from the usual hustle and bustle of the city life, the perfect place to seek some solitude in the heart of Delhi is the Lodhi Garden. It's a perfect cocktail of natural beauty with esthetic significance of human constructed tomb, fort and monuments. The garden, which covers an area of 360,000 m2, is situated in central New Delhi. The Lodhi Garden is beautifully positioned in the heart of the city. It houses some rare species of trees, birds and beautifully constructed tomb during the 15th century. The historical significance of the garden cannot be undermined. The fort and the tomb still stand with authority and elan. This place is perfect for joggers, nature walkers, pre wedding shoots and other photography sessions. This is a meeting place where people from different spheres of life, cultures, religion amalgamate and presents a beautiful picture of "Delhi Dilwalon ki" with religious and cultural tolerance.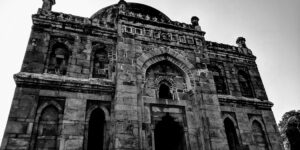 The Lodhi Garden houses tombs, mosques, and bridges from the era of Sayyid and Lodhi Periods. The tombs of Muhammad Shah and Sikandar Lodhi are octagonal in shape. Shish Gumbad and Bara Gumbad are square shaped tombs with an imposing dome, turrets on corners and facades. Hence, those give an illusion of being double story building. During British Administration in India, the park was developed and inaugurated by Lady Willingdon on 9th April 1936. Its name was Lady Willingdon Park. In 1968, the park was renamed as Lodhi Garden.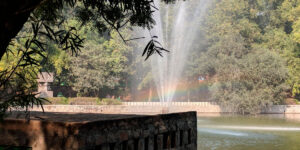 How to reach
Delhi is well connected by rail, airports of all major cities of India. Metro Rail is the best mode of travel in Delhi today. Avoid rush hour travel i.e. 8 – 10 am in the morning and 6 to 8 pm in the evening. The nearest Metro Station to Lodhi Garden is JLN Stadium Metro Station. Also, you can take a DTC Bus (City Bus), Taxi or Auto Rickshaw to reach to Lodhi Garden.
Lastly, this vast garden requires 4 to 5 hours to completely walk through it. The walk through this beautiful lush garden with majestic tomb will keep you spellbound and memories to cherish. Last but not the least one piece advice will be – please do not litter and let this beautiful garden retain its identity and integrity.
Imtiaz Ullah (Travel Writer & Corporate Attorney)