By Anshul Kumar
Like Delhi, Ahmedabad's history has been dotted with the rise and fall of many kingdoms. Recently listed as UNESCO's world heritage city, Gujarat's Capital is already famous because of its rich culture. Ahmedabad has seen coming and going of many dynasties. From Sultanate to Mughals and later the British, everyone left a mark on the city as it is known today.
The rich heritage of Ahmedabad offers a number of places to explore. From beautiful temples to old mosques and stepwells, this city has everything. For travelling souls, Ahmedabad presents a mixed bag of options to explore. Most of these places can be covered on a day trip while others are ideal for weekend. Here are a few offbeat travel destinations around Ahmedabad.
Modhera Sun Temple
One of the 7 sun temples in India, the one at Modhera is around 1000 years old. The beautiful temple was constructed in 1026 AD. The construction of the temple is in such a way that the rays of sun fall on image of Surya at the time of the equinoxes. The temple complex is filled with a number artefacts dug out from excavations.
How to reach Modhera – Regular buses travel between Ahmedabad and Modhera starting at 6 AM in the morning. It takes around 1.5 hours to reach the destination. You can either take an auto rikshaw till the temple or walk there.
Modhera is worth spending 3 to 4 hours. Start early in the morning so that you get the best views. If not then try to reach by 3 PM so that you get to enjoy the beautiful sunset behind the temple.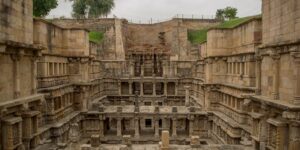 Rani ni Vav, Patan
Among the many beautiful places in Ahmedabad, Rani ni Vav is probably the most popular among the visitors. As a part of UNESCO World Heritage Site, Rani ni Vav is an intricately constructed stepwell constructed in the year 1050 by Queen Udayamati. It is managed by the Archaeological Survey of India. Many travellers combine Patan with Modhera as they are located at close distance. One can also take a detour while travelling to Little Rann of Kutch.
How to reach Rani ni Vav – One can either take a direct bus to Patan or find a ride from Modhera/Mehsana. Once you are at bus stand, take an auto-rikshaw and ask him to take you to Rani ni Vav.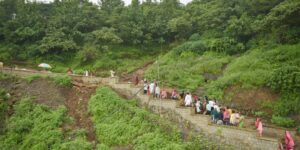 Pawagarh
Pawagarh is a sort of hill station for the people of Ahmedabad who want a quick break from their city's hot weather. While a short drive from Ahmedabad, it is also 46 km from Vadodara which makes it easy to access from both cities. Pawagarh hill is a lovely destination and ideal for adventure seeking trekkers as those who want to enjoy a chilled out vacation during their stay.
The best time to visit Pawagarh is around Monsoon when the whole area gets covered in fog and the misty atmosphere makes everything look so pretty.
How to reach Pawagarh – Regular buses ply between Ahmedabad/Vadodara and Pawagarh. Once you are at the bus stand, you will find jeeps going to the ropeway point. From here, you'll have to get tickets for ropeway that will take you on the top of the hill in 15 minute.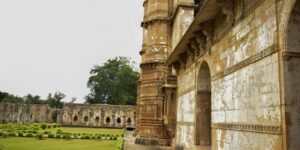 Champaner
Champaner is right outside Pawagarh, at the point where the bus will drop you. A fortified wall is the sign that you have reached the 2nd UNESCO World Heritage Site of Gujarat. Champaner. This fortress town's history dates back to 9th Century when it was first ruled by Solanki Kings and then by Khichi Rajputs. Sultan Mahmud Begda captured it from the Rajput Kings in 1484 after a 20-month siege. It was thereafter renamed as Muhammadabad, and was made the capital of the Gujarat Sultanate in 1485.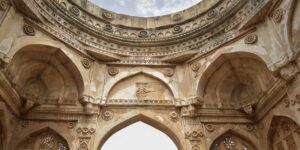 Champaner is dotted with archaeological wonders. Tools excavated from this region date back to Stone Age. Lakulisha Temple is the oldest historical monument of Champaner Pavagadh which was constructed in 11th Century. Other places to visit include Jami Masjid, Shahar-ki-Masjid, Kevada Masjid, Nagina Masjid, Lila Gumbaj-ki-Masjid, Ek Minar-ki-Masjid, Panch Mahuda-ki-Masjid, Bawaman Masjid, Khajuri Masjid, Iteri Masjid and Kamani Masjid.
How to reach Champaner – The bus that you'll take for Pawagarh will drop you right outside Champaner. It is a better idea to go to Pawagarh first and then come to Champaner.
Little Rann of Kutch
Unlike most of these destinations, Little Rann of Kutch falls under the exotic category. Staying here for a night is mandatory for the best travel experience. Popularly known as Wild Ass Sanctuary, Little Rann of Kutch lies on the edge of Great Rann. 4 hours away from Ahmedabad, it is easy to visit this place on a day trip if you start early.
How to reach Little Rann of Kutch – Dhrangadhra located on Bhuj – Ahmedabad highway and the starting point of Little Rann of Kutch. It is 210 km from Bhuj and 126 km from Ahmedabad. Frequent state transport busses ply on this route.
Anshul Kumar is a solo traveler and a backpacker. He works as a freelance content writer to sustain his travels. He left his job in 2017 and since then he has explored various places in India and South East Asia. He writes at dailypassengerr.com and you can also follow him on instagram @untamed_bachelor