Shimla, the capital city of Himachal Pradesh is one of the most liked tourist destination which offers wonderful experience of romance, nature, spiritualism, adventure and cosmopolitan tinge of the hill state. There are many good reasons to make it your ideal place to revamp mind and soul. Among these reasons, attending International Film Festival of Shimla is the latest addition. The city being one of the most favorite tourist spot, organized its fourth edition of the IFFS which was one of its kind, with one on one interactive session with reputed film makers, master classes with national award winning film directors and screening of around 80 Indian and international films over the weekend.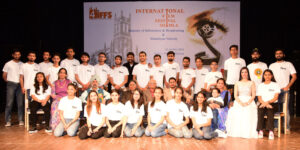 Since its inception, which happened four years ago, International Film Festival of Shimla (IIFS) has gained popularity as well as support from locals and tourists. This year IIFS turned four and that gave one more reason to pack bags for a Shimla trip. IIFS is one of the most prestigious and top notch Film Festival, that has remarkably grown through the years. When in 2015, the first edition of the event debuted, there were less than 20 International and Indian films screened. However, this year the event has spread its wings and around 80 films were screened throughout the three days long film festival. With award winning films of national and international repute participating in the festival and covering a large geographical area, touching multiple cultures, influenced by countless experience, accentuating the layers of various forms and styles of cinema and reaching right in front of the audience of Shimla, IIFS has made it possible for the local cinema lovers to experience the delight and for travelers who don't miss any chance to plan their Shimla trip. Well, not for nothing it was the top reason to plan the long weekend.
Next time you plan for a Shimla holiday, make sure to go through the website of IFFS, You might get lucky to have a chance to watch the awe-inspiring films.