(By Shubham Mansingka)
I had been on the road for more than 3 days now and wasn't quite sure where I wanted to go! Isn't that always the best recipe for an exploration of remote regions?
I had first heard about the obscure Miyar valley many years ago, when I was spending a bitterly cold winter in a remote region in Ladakh. As a well wisher the intrepid traveller had refrained from giving me more details about the same. He had told me the joy of some places was in not talking about them; but in the actual visit.
And this trip had already taken a long time coming! I'd somehow made it across the Sach Pass in unusual torrential rains around Bairagarh. The wilderness of Pangi Valley had felt unreal but what really took the cake was the truth of being in heaven – in Miyar Valley.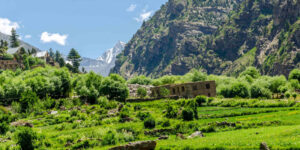 I am waiting at the bus stand in Udaipur. No, not the Udaipur of Rajasthan but Udaipur in Pattan Valley, Lahaul. The bus is supposed to come from Keylong at 4 but hasn't come yet. It is already 5 pm. I haven't bothered to find a guest house in Udaipur and began wondering what if there is no bus! There are 2 other people in Udaipur waiting for the same bus; they assure me that the bus will come!
The bus is finally seen at 5:20 PM, filled to the brim. I pay the paltry sum of 45 Rupees and buy a ticket to Shukto (It could be rephrased as a magical land too!). In a moment of frenzied anger, I shout at the bus conductor demanding a return so that I can get off the bus. He laughs and asks two women to make a tiny space for me to try and sit with my huge backpack.
It is evening and there is a little possibility of seeing the colossal landscapes from the elusive windows, but my eyes gaze endlessly at the beauty on offer. The bus winds its way slowly on treacherous roads along the Miyar Nallah through the villages of Miyar valley. We cross the villages of Shakoli, Chamrat, Karpat, Gompa and reach the sizeable village of Tingrit.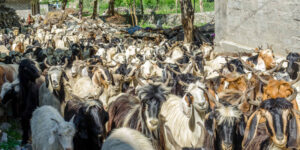 Tingrit village has a shop and a local dhaba as well. There was a check post as well where all outsiders have to submit their details. The policeman tells me to ensure that I register my details again when I come back, he tells me many people go missing in the mountains and then I may also feature in that list, if I don't let them know of my exit!
A raging nallah flows alongside the road. It is already dark.
There is a different freshness and energy in the air in Miyar Valley. It is a pin drop silence and I could still hear my heart thump in happiness.
A school teacher screams the bus to a stop. There is no village as far as I can see. We have crossed Urgos village, which is the biggest in Miyar Valley and the teacher is headed to Chaling.
The bus guys tell me that the teacher's village lies on the other side of the river/nallah and he will cross it on a pulley. I shudder, the bus roars along in the night. I wonder if this is really happening or am I dreaming!
There have been foreigners visiting Miyar valley since as early as the 80s (If the locals are to be believed.) The details on treks in this region suggests that it is one of the most deadly regions to trek with a very high mortality rate on dangerous rocky climbs. We are on the teetering edge of a road carved from the mountains. The bus steadily loses its passengers in small villages along the way as the cold winds seep in from the small spaces in the windows. It is July, and yet it is so chilly that I wonder why I find myself in such crazy places time and again! By the time the bus reaches its last stop at Shukto village, apart from the driver and conductor there are only 2 of us left in the bus.
I have no idea if there's a homestay in Shukto; or in the entire Miyar valley. But having travelled to the mountains for many years now, I'm certain the kind locals will find me a comfortable home!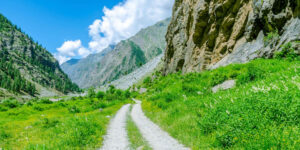 And as if on cue… within no time, I am playing host to an arak party at the super comfortable homestay in Shukto village. Liquor is on the house today, the locals are happy to see an Indian tourist. The driver joins me, apparently the conductor and him don't get along well together.
It is dark and furiously windy, yet a million stars to welcome, when I go out to pee. My arak drinking partners were amused when I stood outside for a long time, it was really quite cold! I briefly wondered if someday I could gather the mental strength to spend an entire winter here. How incredibly beautiful it would be when the water freeze! Dinner was a simple affair of vegetables served with chapati, dal and rice and was very tasty. The vegetables had all been organically grown in the villages and were very fresh.
I really feasted on it and imaginatively thought of myself as a camel who is storing excess food for later! It was even more fun when I wandered in this secret paradise in the dark, while looking at the stars for company. Clouds had made it a fairytale setting and I was happy to just watch it from the window of my room, doing nothing.
There is a special joy in having these experiences wherein you are not looking for anything in particular, yet after a day or two – you invariably end up finding yourself. And there is a joy of solitude in the absence of a mobile network. I slept soundly and woke up to stormy weather! After having had my fill of nature, it was time to go.
There was the small pleasure of taking a detour, walking on the green grass amongst trees and coming across an ancient Gompa. (Thought to date back to approx. 16th Century.) I'd missed the morning bus and the next bus was only after 7 odd hours!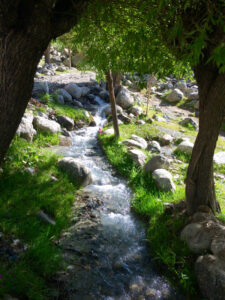 A small stream ran across the road, I left the road and joined the slender walking path: Not that there were any vehicles coming or going! This was as isolated as it could get, if I allow myself to think I can go as far as to say not more than 100 outsiders visit this place every year. And the number of Indians could be counted on fingertips, as the locals said. Apparently, even the maps of the valley were initially made by some Italian tourists!
I walked a lonely long road in bright sunshine and came across some wild roses, a small patch of yellow amongst the green, a snowy peak not enveloped by clouds – and decided to lie down. Alas, I was a solo traveller and there was nobody around to click a photograph for my Facebook profile picture or something; for the sake of memory.
I remembered to go to the Police check post in Tingrit and informed the officer about my exit. The sun finally shined through the clouds and the entire valley glistened in a charming shade of green. Miyar valley had truly given me a glimpse of how beautiful paradise could be; and hopefully I can head back this year to hike to the pristine meadows farther in the valley.
Only time will tell.
TRAVEL INFO
Miyar valley is a lush green and wide valley north of Udaipur in Lahaul & Spiti district in Himachal Pradesh. The valley is famous in the trekking circuit. The valley stretches between Udaipur (2649 m) and Kang La Pass (5468 m).
HOW TO REACH: The motorable road is mostly level and ends at the village Shukto.
The access to the valley is from Udaipur. HRTC busses run from Manali to Udaipur over the Rohtang pass. Distance between Manali – Udaipur (155 Kms). Distance between Udaipur – Shukto (30 Kms).
STAY: There are no provision shops in the valley. The only stay option is in the village of Shukto, close to Khanjar, the last village in the valley. There is a check post at Tingrit where all outsiders have to submit their details. Tingrit village has a shop and a local dhaba as well.
BEST TIME TO VISIT: Mid June – October