Delhi: The majestic Mehrangarh Fort will play host to over 250 artists at the 12th edition of Jodhpur RIFF from 10-14 October, under the brightest full moon of the year. Music plays a key role in the transmission of cultural heritage and mirrors the society that we live in. And more so, it's root and traditional forms.
Committed to premiering novel collaborations, programming fresh and compelling music and providing professional opportunities for both legendary and emerging performers, Jodhpur RIFF has always had a line-up of a diverse range of performances, spanning multiple genres and styles.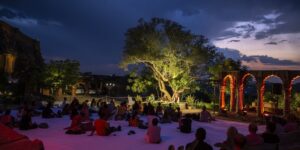 This year is no exception: an unusual musical alliance between Rajasthani and Irish musicians called 'Citadels of the Sun;' the ancient Armenian duduk (a double reed, woodwind instrument) played by maestro Emmanuel Hovhannisyan in collaboration with Swiss-based Authentic Light Orchestra lead by Valeri Tolstov and Veronika Stalder; maestros Ballake Sissoko from Mali on the kora, the ghatam legend Padma Bhushan T.H.Vikku Vinayakram and the incredible Muzikas from Hungary.
For the first time, the iconic RIFF Rustle is led by a woman – the fantastic Havana-born Yissy Garcia and percussionist Marypaz from Cuba.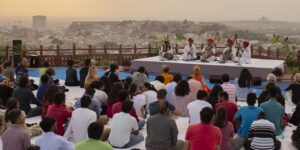 Announcing the Jodhpur RIFF 2019 edition, Patron of the festival, HH Maharaja Gaj Singh II of Marwar-Jodhpur said, "I am happy with the role played by the festival in India's cultural landscape and the positive impact it has had on our music ecosystem and the livelihood of the folk musicians. The enthusiasm with which the festival started 13 years ago, has not ebbed, only further increased, and with a far more meaningful resonance."
Echoing his sentiments, Festival Director, Divya Bhatia said: "Jodhpur RIFF provides a platform that recognises, acknowledges, respects and celebrates our Rajasthani intangible heritage. Moreover, it creates opportunities and facilitates the judicious use of resources for the revitalisation of this heritage – providing inspiration, opportunities, engagement and reward (livelihood) for the traditional artists. I am glad that we have retained our standing across the world as India's premiere international roots music festival, with its freshness and qualitative edge intact."
Bookings:
Program and tickets are available online at www.jodhpurriff.org
The early bird discount of 15% is available till 15th September 2019. For further updates on Jodhpur RIFF 2019, please visit: www.facebook.com/JodhpurRIFF/