(By Mayank Pathak)
Karol Tibba is a lesser known peak, crowning majestically tall just behind Basal village in district Solan. Karol is easily accessible, which allows it to be a feasible option for people of all age-groups and physical fitness.
A mere 4-6-hour trek takes one to the top of the Karol Tibba, depending on the route you choose to go from, it can easily be done in a day. I chose to go straight uphill from my backyard in village Basal, which luckily was the shortest (and the steepest) route to Karol. Total walking distance covered one way to the peak was 8.7km (via Basal), so it can be said to be a short trek. Also, it takes its crown as the second highest peak of Solan district falling short of Chail by a few metres.
This trek is a wonderful option to undertake on weekends, especially for the people living in Shimla, Rajgarh or even Chandigarh, as the journey to the starting point would be just a little north of a couple of hours. One can easily take a bus from Shimla, Rajgarh or Chandigarh to Chambaghat to reach the starting point of this trek.
It is an easy to mild trek, only proving to be a little harsh on your knees if you've been stuck in a system or biding time living a sedentary lifestyle. I would suggest plenty of water and sandwiches on this one. But don't worry though, there will be a point after which you won't feel a thing. Basically, that's when you reach a big open meadow fondly known as the 'green patch' by the people of Solan. You would have sweated a lot by this point, regardless of the way you chose to come here and now anything more would just be a cakewalk. I guess I'm getting ahead of myself. Well, speaking of cakewalks, there are plenty wild cows/buffalos on the green patch as it is a popular grazing area for the villagers of Basal and Jairash.
Now as we go up and up, the clouds just get closer. As I mentioned earlier the way I chose to go with is pretty quick. And an athletic person might just reach the green patch from the start in 45 minutes. It is a moderately steep climb although with many shortcuts to cut the time. See how many corners you can cut! Going over grasslands and the occasional treeline, the villagers have built a rough mud path which has become more visible with its use over time.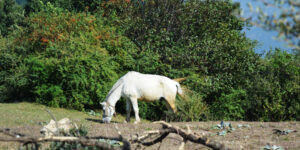 An interesting piece of information about the place is that during the Dvapara Yuga of Hindu mythology, the Pandavas had escaped from the 'Lakshagraha' made by Dhuryodhan which was a Palace made using highly flammable material for the Pandava brothers. This information was leaked to them by their uncle Vidura and he made a cave to escape from that Lakshagriha. This cave was the Karol cave. But the history traces back even further to the era of Lord Rama when during war with the forces of Ravana, Lord Lakshman went into coma. After his diagnosis, it was realized that the only cure was Sanjeevni Booti, for which Lord Hanuman volunteered to get. However, while searching for the medicinal herb Sanjeevni, he was confused. In his confusion, he picked up an entire mountain and took it on his palm back to Sri Lanka and while coming pack a portion of the mountain fell down in Himachal Pradesh. And this mountain is what is known as present day Karol.
Try not to hurry, it is a beautiful trek up ahead no matter how demotivated you initially feel. As you keep ascending height upwards, the place turns out to be more and more photogenic.
Surprisingly good spots are in plenty for envious social media uploads. Keep moving upwards, stopping at a few points for food (if you are hungry) although I recommend to endure the struggle and wait until you reach the green patch.
'Finally' are the words that come to many minds except the ones too out of their breath when they first witness the captivating sight of green patch engulfing them.
I would suggest you to feel free to just lie down for a while, relax and soak the beauty in. Or if you packed sandwiches like I suggested, you can have a nice picnic right in the lap of nature. Your struggles have been worth it. There is a pond to be found here which freezes at the peak of winter.
Along with a water source, which is a boon for many animals, many different kinds and colors of berries, a local's home, horses and cows are present here. And of course, mushrooms. A lot of them. After all, Solan is indeed The mushroom city of India. Isn't it? A photographer will feel the potential gurgling through this place.
Now here's when you choose which path you take. which says 'Rasta Karol' (way to Karol) and reach the temple cutting through dense forests. Or, you can climb up from the left of the sign and walk edge to edge with the clouds beneath your feet. It's your call. However, if you're running low on daylight with no plans to spend the night like Bear Grylls, I would wholeheartedly suggest the latter of the two options.
Contrary to Robert Frost's famous 'The road not taken', no matter which path you choose, it would not make any difference.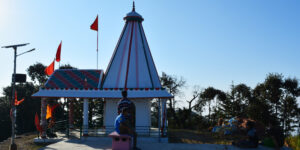 One eventually reaches the peak, marked with a flag. There are many spots to be photographed here so take your time to capture the real beauty. You will stumble upon a Hindu temple on the way which is dedicated to the goddess of Karol. If you're feeling thirsty, there is a water source right at the ground floor of the temple. The way the canopy gets thicker is both pleasing to the eye and a relief from the hot sun. Please do not litter anywhere on the mountain and keep its nature intact for many more to enjoy.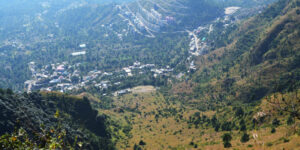 Beware if you choose the one less travelled, which is the latter of the two options, it remains up to you to make your path. If you are in any way unsure, please DO NOT undertake this path. The peak lies around 2100m above sea level and is basically a small open space with Tibetan flags all around tied to trees. In the middle lies a Hindu flag, dotted by a rock-mud structure to its sides. There also used to be a Cave on this mountain, however the cave is no more functional due to rock slides as of now. One can only explore it up to some meters.
Legend says Pandavas used it to travel, and that it leads upto Pinjore but that is yet to be verified. You can now either go back from the path you made, or find a path sliding straight from the forest. Though be careful while sliding down the mountain in the monsoon season, as the terrain can become muddy and algae infested. Pick whichever seems feasible for you.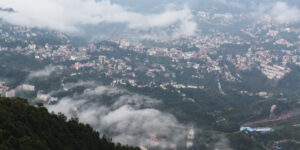 An annual fair known as the 'Karol Mela' is conducted by the villagers of the area where a feast is organized along with participation local games. Many craftsmen climb the hill during the fair to sell their product. Thus, it is evident that the mountain holds great history and cultural value.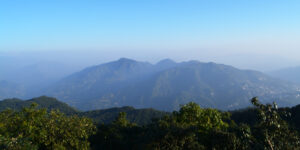 It is always ideal to descend down before nightfall, as the forested path is not very ideal to transverse in no natural light. One might encounter animals at night, which can prove to be dangerous. If you are going to be late, and are alone, it is always a better idea to stay with the priest at the temple.
Now with your battery dwindling and stamina crashing. Have a nice walk down listening music down the mountain from the green patch. Resting in between to admire the beautiful sunset. The night's sleep you get today will be one of your most blissful for the mountains have now blessed you. And not to mention how colourful your Instagram feed will be for the weekend! You will reach the road leading to Basal from Chambaghat as the end point of your trek, which is the same point you started the day from.
That's it! You have conquered the Pandavan Cave Trek (Karol Trek). Congratulations!
PS – But seriously, how about a trek to Karol this weekend?

TRAVEL INFO
Karol – Highest peak in the city of Solan, rich in forests and mythological history. It is one of the few places left in Solan that still get snow.
Elevation – 2100m (approx.)
BEST TIME TO VISIT: Generally favourable all year round, however heavily pack on woollen during the winter season.
HOW TO REACH: One can easily reach at Chambaghat in Solan. After reaching Solan/Chambaghat there are many ways to tackle this trek, all lead to the green patch which can be taken as base point.
1) One can go through Kandaghat, which is a long route. It has a big frog statue and a small but photogenic waterfall.
2) Second one goes up from Chambaghat itself. If you a walker take this one, it shall satisfy your crave. Not much in for the views though until you reach the green patch.
3) Third goes from up Jairash (a village on mount Karol), pretty scenic to walk through the terrace farming especially in winter when light snow can be found upto some extent.
4) Lastly but not the least, this trek can also be undertaken climbing up from Basal village, situated at 2 Kms away from Chambaghat (there is a diversion going upwards beside the bus stop, take that to reach here). You will see a Peepal-tree, just start climbing from up there and rest is pretty self-explanatory.