Chandigarh: A two-day international conference on "Medical, Health and Wellness Tourism in India: Status, Trends & Future Prospects" began at Panjab University, here on Friday. Presenting their views on the first day of the conference, organized by University Institute of Hotel Management and Tourism (UIHMT), Panjab University under the aegis of HOSTOCON, speakers from across the country and abroad shared their vision on issues related to Indian tourism. The dignitaries for the event were Willy Kipkorir Bett (Cabinet Secretary, Ministry of Agriculture, Livestock and Fisheries, Kenya), Dr. Marina Ambrosecchio, President and founder UET Italia, Dr. Bikas Mehdi, PGI, Professor R.K. Gupta, Vice Chancellor Maharaja Agrasen University, Professor Sanjay Kaushik, Director ICSSR and Dean College Development Council, Dr. Subhash Sharma, PU Fellow and Dr. Varinder Garg, Radiologist, OSD to Health Minister PGI.
The conference aims to discuss acute technology issues and business challenges faced by both tourism as well as the healthcare sector. Moreover, this will provide an opportunity to interact with leaders of the medical tourism industry, both from local and global partnerships. This will be a platform for hospitals, medical tourism facilitators, insurance companies, academicians, hospitality industry, healthcare investors and pharmacy companies.
In his welcome address, Dr. Subhash Sharma described the significance of India in medical tourism also one of the best locations to obtain top quality medical treatments and indisputably a leader in the promotion of medical tourism. He further emphasized that the Indian health care industry is growing at a faster pace and it is likely to increase by $280 billion industry by 2020. Dr. Varinder Garg discussed that India is equally competent to its western
counterparts as it offers low-cost treatment and competent quality of services. He said that Kitchens in homes of India are itself a pharmacy. The amalgamations of various herbs and spices Served as potential healers for various diseases and ailments. He also said that channelizing medical tourism would help create employment and boots infrastructural facilities.
Prof. R.K. Gupta during his speech told that medical tourists come to India for dental, cosmetic, cardiovascular and neurological treatments. He suggested that tourism sector should work closely with the industry chambers, students should be trained with an additional language, there should be a joint platform of information and communication also the services of Ayurveda homeopathy and naturopathy should be expanded and panchkarma should be highlighted.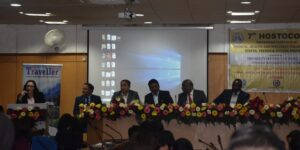 Prof. Marina emphasized that India and Italy should work hand in hand for expanding their niche medical tourism and to tap its full potential. She discussed how Italy and India are similar in respect to medical tourism, however, lack of proper infrastructural facilities and marketing have somehow lead to the degradation in medical tourist's influx.
Mr. Willy said that Kenya and India have relations since ancient times. Also, he said that Kenya is a potential market for medical tourists for niche medical tourism in India. He described the reasons for the emergence of medical tourism in India. According to him, the time has come for the policymakers for putting up the framework and suggesting the government.
Dr. Bikas Mehdi explained how people who had been treated by Indian doctors had a lesser mortality rate. He described how competent MBBS professionals in India are. However, communication was found to be a drawback for the development of niche tourism. Prof. Sanjay Kaushik described the model for ideal medical tourism and suggested three ways for expansion of the same.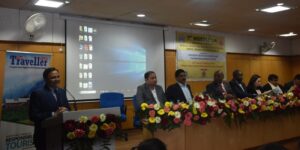 Dr. Prashant Gautam, Director UIHTM, presented the vote of thanks. The event is expected to enhance awareness on the aspects that go into improving availability of health facilities. It will provide a considerable scientific contribution in the domain of medical tourism for tourism destination competitiveness.