Snow King Retreat understand the meaning of needs and requirements of holiday makers, so committed to providing a delightful experience to all guests. Reception open 24 hrs, all Superior Rooms, Villas, Cottages, huts are equipped with Facilities like Thermal Beddings, Room Radiator Heaters, running hot and cold water, tea kettles, wide flat LCDs etc.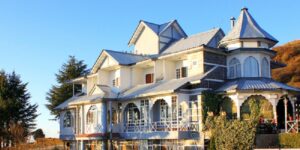 The purpose of a holiday maker is to do something extra from everyday's hectic life because life in a crowded city starts with stress, traffic, noise, busy schedule, so requires some recreational activities in a serene and peaceful environment for rejuvenation. Snow King Retreat is committed to fulfilling the requirement of guests and involve them in activities like tracking, bicycling etc. Besides this, Snow King Retreat has spacious Party/Conference Hall where Corporate Meetings, Seminars, Conferences, Kitty Parties and other auspicious events can be organized.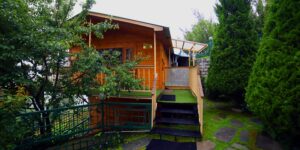 Accommodation at Snow King Retreat includes Superior Rooms, Family Suite, Cane hut, Bamboo hut, Log huts, Forest hut, Pine wood cottage, Chairman Suite Combined with very economical tariff plans.
Highlights
Cooler than Shimla & other places in the region – no fans or air-conditioning required even in summer at it's peak.
On Higher altitude than Shimla City & Chail .Shimla, The Mall – 7200 Feet approx. Snow King Retreat – 9000 Feet approx.
Peacock & Bar Restaurant.
Snow View Revolving Bar & Restaurant.
Multi Cuisine Broadway Restaurant.
Noise & pollution free environment.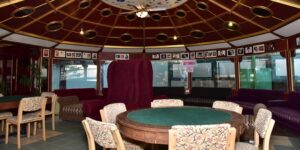 Amenities & extra activities
Maximum snowfall at Fagu – season's 1st & last snowfall in the region.
Man made mini lake at 150 meters.
Ample parking space for guest's vehicles.
Apple/Almonds/Black Cherry trees, Tulips from Holland within the premises.
Wide Range of Accommodation.
Surrounded by dense forest & Potato Research Farm.
Party/ Conference Hall for Meetings, Conferences & other events.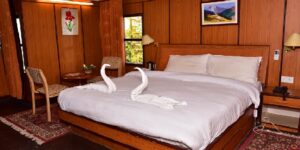 "Snow King Retreat has always focused on comfort & relaxation of guests to rejuvenate them & meet them purpose of their vacation. Snow King Retreat offers a delightful experience through dedicated management & staff to make their stay most comfortable & memorable."
SNOW KING RETREAT
Fagu Hill Top, Near Kufri, Shimla
Himachal Pradesh, India Pin Code -171209
Email: booking@snowkingretreat.com
Website:
www.snowkingretreat.com
HOTEL RECEPTION
Phone: +91-98160-39666, 98761-39666
Check in: 2:00 P.M.
Check out: 11:00 A.M.