By Shiva Tripathi
Images used in the story are courtesy of Rohit Pal
Think of what faith would feel like if it could be named a place, and you would have sights of the cherished land of Ayodhya flashing through your mind. The aura and spirit of the place coupled with an unprecedented support and visionary plans for the overall socio-economic development of the region, is being seen around the world to be all set for bringing back the lost glory to the land of our eternal hero, Ramlala. Revered as one among the seven most sacred cities of the country, the land of Shri Ramchandra, a descendant of Surya Vansh founded by Manu has everything a seeker looks forward to for his spiritual upliftment. Where faith meets the sacred and turns into a belief to cling for a lifetime.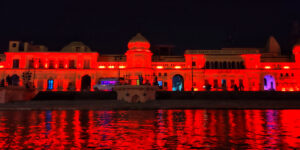 As for myself, I have been a facultative believer even on my most religious days. Having a little element of faith and respect for all the religions alike, or staying indifferent to the very concept altogether while not judging anyone for holding a varied opinion was my preferred mode of being. May be because I have always been a bit too lazy, irregular and undisciplined; or may be because the biggest portion of my thought process has been groomed up by some of the finest, most renowned and reputed Science Laboratories in the world, where Darwin's word would be preferred as the final verdict, making science and religion seem mostly incompatible.
I assume my own story to be a natural progression of a thought process of a rational and evolving mind. Beginning from being tamed to be a staunch devotee in a traditionally religious family of an Indian landscape, one stays religious only because they're told to be so. In school, at home. Period. No more unexplainable components to it. The natural progression to being rational and finding it only reasonable enough to question everything replaces religion with science and the urge for a revolution with time and age. It's only with the maturity a certain age brings to us that we realize the value of faith. Wise was the one who said, 'It would be necessary to invent God if none existed!' But wiser, I have started to believe, was the one who said "If there were no God, there would be no atheists."
Having had too much of a science in my life, everything had started getting so very rational and predictable, that it had begun making my journey all mundane and boring. Devoid of belief. Devoid of faith. Devoid of the idea of magic. And this was a major missing for sure. I had started craving to want and need to look forward to faith for my answers. It felt like a craving from the child within.
---
For most of us, the phase of the Pandemic also turned out to be a phase of realisations. Physical, psychological, spiritual, there wasn't a domain the ripples of the lockdown didn't affect. Yes, the coming generations might find it hard to believe in the post-vaccine era, but there was a time when the scare of the disease was real! Unprecedented. And that was also something that changed at least a part of almost all of us.
---
For me, this change was something I had always wanted to happen to me. There was a time in the mid of things during the Covid era, that all we were left with to cling to, was faith! Screening of Ramayana at a time when we were all stuck at home with our families did the rest of the magic. Suddenly, the lockdown allowed us all the time in the Universe for things we had always wanted to do. While it ranged from making and uploading pics of Dalgona coffee to accepting Saree and Babies challenges for many, for me it turned into a time when the hidden desire for faith made its way to my life again and that's how the rich ancient literature of the most ancient, diverse and extensive Indian society stated gracing the book shelves; and, while I had never really been a fan of counting these religious places as tourist destinations, I suddenly wanted to experience what the aura and energy in that place would feel like.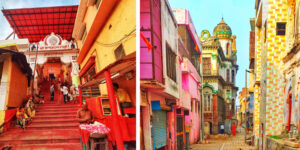 Ayodhya, formerly known as Faizabad district, falls just midway between my native place, Gorakhpur and the city I'm posted in, Lucknow. My work requires me to travel a lot on that route out of many other places, and despite having crossed the city diagonally for not less than 50 times since my childhood, I never visited a single temple there. In Awadhi, they say, 'Hueiyen uhai jo ram rachi rakha', meaning, 'Only that happens which is the will of Ram'. An ultra strong person as I've always wanted to seem, dominating as my profession has demanded and a control freak as the world calls me, this very line seemed so comforting to someone like me who had always kept busy struggling to fix things for herself and all others around. The line made everything so peaceful that I naturally wanted to believe it.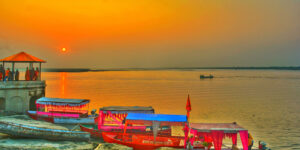 No matter how rational I've been, my heart, secretly, had always wanted to believe in the idea of 'The Divine Plan'. Nothing is accidental, and everything happens for a reason. Out of nowhere entered a character in my life named Satyavrat, who happened to be a native of Ayodhya and gifted me a 'Ram'-naam shawl and Ramcharitmanas with prasadam on our very first meeting. And for the first time, the sweets didn't feel like laddoos alone. There was a sense of delight and blessing in having and sharing them around.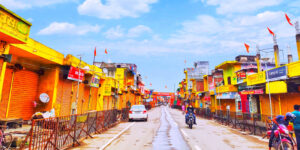 I've also never been a fan of watching TV, and the screening of Ramayan on Doordarshan and so many people going gaga about it only amused me initially. But as time and phases of life have convinced me, a lot of things happen only as and when they have to, I somehow sat before the same TV set that I had always and ruthlessly ignored, to watch an episode of Ramayana. And yes, I didn't miss an episode after that. 'Hum katha sunaate' song stayed glued to the mind and tongue thereafter.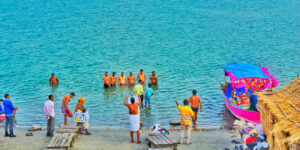 I belong to a family where it was left to me how I wanted to go about and conduct my belief in anything, right since my very early days. Be it for my sense of values, morality or religion. They've been a witness and party to my journey and quest for the Unknown in the religious context, like every other thing. They would, without a speck of resistance, get me a stone ring I decided I need to wear after doing some self research, but would never insist I continue to wear that when I wish to put it away. I do not remember my family being very passionate about the 'Religious' aspect of life either. Visiting pious places also was more out of tourism than anything else, and hence, they were equally fine and cool with me being a believer or otherwise. So while my family always found it unnecessary to guide me on issues of faith as they didn't want to interfere in the natural course of action for my faith system, I felt the need of at least having been introduced to something so beautiful. I subsequently made sure that I would keep sharing the lessons I learnt about our rich culture and heritage with the kids in the family as a part of my responsibility. It would definitely be left upon them to choose their path beyond, but I'll at least prefer to acquaint them with something that I now find to be so fundamental to life.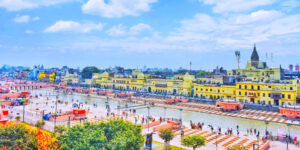 The very same stories and pictures from the revered land of Ayodhya, which hitherto stayed unnoticed, now started clicking and making an emotional appeal in a cute way, and the researcher inside me started gathering more resources on the epic. For instance, abandoning of Mata Sita by Lord Ram for the sake of convincing the people was something that had always made me upset, right since I heard it for the first time. From the multiple interpretations and versions of Ramayan, one plausible finding could be that the 'agricultural tax' levied on the public that was also called Sita, and was exempted by the ideal King for all: Shri Ram was the one that was abandoned and not Goddess Laxmi who came to this mortal world as Mata Sita.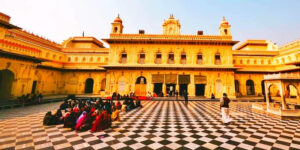 Incidentally, this was also the time when the bhoomi-pujan for the much awaited temple for Ram Lala was done by our Prime Minister, the secular nature of which was also questioned to me in an interview I appeared for.
For those who couldn't be convinced for the love of a King who could do anything for the sake of Dharma and his subjects, could be appealed by and for developing the entire area of erstwhile Awadh Province in socio-economic terms by the influx of tourism, resources and currency. Also, isn't Shri Ram as a King, someone who the Heads of the States around the world should look forward to as just the most ideal ruler, ever?
The attachment for the characters kept on intensifying with every book I read, every expert on the subject I heard or came across and every conversation on the topic I participated in. And one fine evening while once again I was about to cross Saryu ji on my way to Gorakhpur, I rang Satya to know if I could go for a darshan of the place. I was surprised to see how close the temples of Hanumangarhi and Kanak Bhawan were from the junction I had crossed so many times. But then, 'Hueiyen uhai jo ram rachi rakha' and 'Hueiyen tabahi jab ram rachi rakha'.
The sentiment of finally getting the awaited and cherished darshan would be difficult to confine in words alone. Hanumangarhi stairs seemed a cakewalk to climb, even by a sedentary and overweight character like me with the power that seemed to have been bestowed just magically. It felt so safe over there to say the least, and to move out unburdened, shrugging off all my worries in the feet of Lord Hanuman.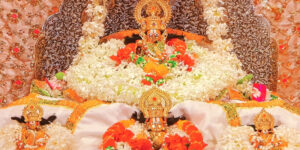 Kanak Bhawan was the next destination, and we clearly had no idea about the routine or when it closes. Despite having a multitude of plans on what all I had to ask God for, all that could happen to me on that divine spot after bowing down to him was a sense of submission and peace. There was an urge to sit back, indefinitely. And just when I turned around handing over my phone to someone to click my picture, I was told that the curtains had been dropped. I turned around in shock to notice, I had just reached on time to be able to meet 'my Ram'! It wasn't me of course, it was him who had allowed and called me there, late, but eventually. I smiled and headed back.
Just on the way back I heard someone offering some food to a saint there who refused the offering saying 'I am from Mithila, Sita's maayka. I can't have anything from her sasural, Ayodhya'. Blessed I felt for belonging to a culture and sentiment as cute and specific to India like this. JAI SHREE RAM!