By Suraj Dutta
Mandi, a major district of the state of Himachal, was founded as long back as 1527 AD by Raja Ajbar Sen making it one of the oldest districts of the state. The significance of Mandi, formerly known as Mandav Nagar flows from the fact that it was a popular trade center amidst the ancient Yarkant and Ladakh to Hoshiarpur trade route. Hence, the name "Mandi" which in Hindi means "market".
Vividly enough, Mandi is noteworthy religiously as well. Known as Choti Kashi, it is often referred to as "Varanasi of Hills" owing to its rich heritage of about 300 ancient and new temples, most of them dedicated to Lord Shiva and Goddess Kali. The Archaeological Survey of India has declared numerous of these temples as protected monuments' principal among which are the Triloknath Temple, Gauri Shankar Temple, Panchvaktra Temple, Ardhnareshwar Temple, Bhim Kali, Mata Kuan Rani Temple, etc.


My sojourn to Mandi started on the month of August. I had seen the green Himachal, as well as the snowy Himachal. This time around, I wanted to experience the rainy Himachal, however bizarre that might sound. The Independence Day weekend was around and there was much hustle and bustle all over the town. Checked into the HPPWD Circuit House of Mandi having an old-world charm about it. The Tarna Devi Temple is located in a nearby hillock, however view of the snow-capped mountains eluded me as the weather was foggy. Soaking in the night time ambience of the town, I ended the day with a sumptuous non-veg dinner at Ashoka Dhaba.


The following day, my stay was booked at the FRH located in purani Mandi. I set out at 10 AM to observe the daily prayers offered in the ancient Bhootnath temple. It is one of the primary site of the Mandi Shivratri. Legend goes that Raja Ajbar Sen heard of a cow giving milk on its own to a stone. Lord Shiva later appeared in his dreams and directed him to find the stone (shiva lingam) around which he built the Bhoothnath temple in 1527 AD. Conversing with the priests provides a lot of history of the temple.


The town being a district headquarter has a lot of activity. Everything is managed effectively by the local police. Witness the sheer marvel of the old Victoria Suspension Bridge built in 1877 by Raja Vijay Sen which is only open for light vehicles now.
The story goes that the Raja won a race between horses and cars against the ruling British and got a bridge made to connect Mandi with the English ruled states. Its named derives from the fact that it was a duplicate of the Victoria Bridge in England although it was named Vijay Kesari originally. As I explore the town, I witness the flow of River Beas rising to alarming levels.


Visiting Sharma Dhaba near the bus-stand to have the famous Mandyali Dham which is described in ayurveda to be the perfect diet boasting of all six rasa (shadrasaahara). A plate of the dham costed INR 170 and contained: basmati, rice, sepu baddi, matar-paneer, wax-gourd for sour-sweet (kumara/ kaddu), urad dal, jhol/ kadhi and a sweet dish making it a 'satvik bhojan'.


I started for Rewalsar which is 25 kms uphill from Mandi soon thereafter. The Rewalsar Lake is famous for its 7 floating islands of reed. Rewalsar houses three shrines, a Buddhist monastery, a Sikh gurudwara (Gurudwara Shri Rewalsar Sahib built in 1930), and a Hindu temple. The Naina Devi temple at about 10 kms from Rewalsar is located on a hilltop. Devotees from different religions flock the lake on the occasion of Baisakhi for a holy bath. I found the 123 ft tall statue of Padmasambhava (Guru Rinpoche) overlooking Rewalsar very imposing. The structure was built in 2012 almost entirely by hand and took 10 years to complete.
I hung around at Mandi for a couple of days taking in the old world essence of the historic town. Soon thereafter, I left for the Barot valley which is at a distance of about 80 kms from Mandi.

Barot is a less explored tourist spot and the route from Mandi via Jhatingri-Ghatisani provides you with ample vistas of terraced fields and lush green cedar and pine forests. It features a range of outdoor activities and features a trout breeding centre from where trouts are released into the Uhl. A section of the river is used for angling.
Before road connectivity between Kullu and Mandi, Barot was noteworthy for a mule trail that connected the valleys of Kangra and Kullu. I stayed at Multhan, a village that is situated a few hundred meters ahead of Barot. Interestingly, a part of Barot and Multhan was divided between Kangra and Mandi district with Multhan falling under Kangra.


The British era trolley link connecting Barot to Jogindernagar is no longer functional. It was built during the construction of India's first hydroelectric project – the Shanan Power House and reservoir dam in Barot to facilitate transport of construction material. However, it felt into disrepair once road connectivity with Jogindernagar was achieved. It can be a huge tourist attraction if effectively managed.
I chance upon breathtaking green vistas as I ride ahead of Barot and Multhan towards Badagram where the road ends and the trek to Rajgundha village starts. The difficult grade trek to Bada Bhangal also originates from this area itself.


From Barot, another road leads to the village of Lohardi also known as Chota Bhangal and ends therein. This entire valley is ripe with potential as the tourist boom has only just begun. There are a lot of tourist facilities including FRH, PWD Guest houses, as well as hotels. The ambience is chilled and unhurried, a perfect mix for travelers who want to explore the rural essence of Himachal in a laid-back manner and venture onto treks. An enjoyable week beckons to the ones who are ready to sip in the adventure of exploring Mandi-Rawalsar-Barot.

TRAVEL INFO
Location: Mandi, Himachal Pradesh.
Important Distances: Mandi – Delhi: 415 kms. || Mandi – Chandigarh: 183 kms. || Mandi – Rewalsar: 25 kms.
Mandi – Barot: 80 kms.
---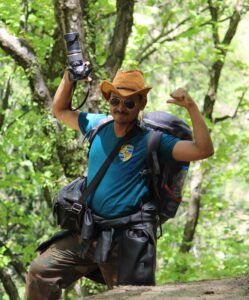 Suraj 'Sufi Traveler' Dutta likes to think of himself as an avid traveller with a sweet tooth for trekking to less explored trails. A lawyer by profession, he was introduced to the unlimited vistas of travelling by means of long distance biking expeditions. Solo biking till date remains his preferred means of travelling and he considers the Enfield Thunderbird as his most prized possession. Trekking to the Everest Base Camp remains at the top of his to-do list.
---