By Mayan Pathak
On my recent hitch-hiking trip to Spiti valley from Shimla, which involved a lot of walking on the road hoping for the next lift, I happened to stumble across a quiet village by the name of Shalkar. Luckily, it was more than just any other village. Located just six kilometres from the famous village of Chango, Shalkar is a small hamlet in the Hangrang tehsil of Kinnaur district in Himachal Pradesh. It is perched at an altitude of 3200m and is part of the upper region of Kinnaur. However, as it is not mentioned in any tourism book nor hashtagged in Instagram, it is truly an offbeat gem waiting to be explored.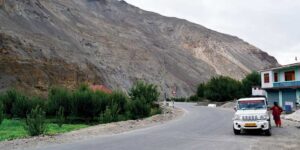 Shalkar lies deep in Hangrang (earlier known as YangThang) valley of Kinnaur and is surrounded by the mighty Himalayas. Being pretty as it is, it is also one of the last villages of the upper Kinnaur region before the boundary of Lahaul & Spiti starts. Sumdo, the entrance to the district of Lahaul and Spiti lies just seven kilometres ahead of here.
The tiny village with less than 500 population features some of the best apples and honey in the Himalayan region, owing to the high yield and superior quality at higher altitudes. While most of the landscape around the village is relatively barren, a sparkling contrast is made by the locals by maintaining tiny flower gardens around their homes. The apple orchards of this village surround the highway going through it, making the walk even more surreal.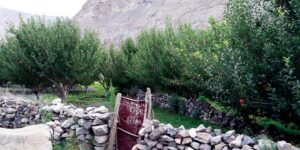 This is one of the few villages of Kinnaur where orchards are at an arm's reach for the highway walker. A quiet morning walk through this village and one shall forget all the stress and monotony of daily life. The Spiti river flows gently to the right of Shalkar village and one can easily confuse its sound with the gentle wind that persistently blesses the valley.
A twenty-one year old tiny bridge named 'Shalkar Bridge' on the NH505 will take you to the entrance of this village, which is then marked by a welcome gate in remarkable Buddhist architecture with 'Thank You' written on top. One can walk through this village in just a little less than half an hour, savouring the apple orchards that sway to the tune of the wind. Remains of an old fort can also be spotted in the village whose history dates back to ancient times when this area was far off from being connected with the real world. With just a few steps into the village, the observant eye is naturally held captive by life breathing in this tiny village.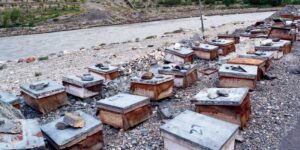 The reason you will spot honeybee boxes around the orchard is twofold – for crop pollination and for honey production. It is also a well known fact that nothing pollinates better than honeybees, and thus such boxes are placed around orchards in the flowering season which is usually from April to late May. The species of the bees in the Kinnaur region are mostly 'Apis cerena', which are found in southern Asia. Interesting how one crop can yield two products just by being mutually helpful!
While the dualism of crisp green and red apples within an arm's reach may be tempting, it is always a good idea to ask the locals before taking anything from their fields. The freshness in the air and beautiful landscapes with it make this place definitely worth a visit! So, when are you visiting Shalkar?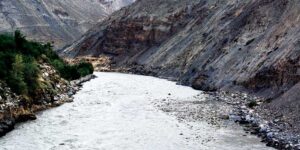 ---
TRAVEL INFO
Shalkar (3200 m) village is located in Hangrang Tehsil of Kinnaur district in Himachal Pradesh, India. It is located at a distance of 120 kms from district headquarter Reckong Peo on NH505. Reckong Peo is located at a distance of 568 kms from Delhi and 227 kms from Shimla.
How to Reach: There are no railways or flights to Kinnaur or Shalkar. Instead, the only way to reach is by road. Upon reaching Reckong Peo via bus/car from Delhi/Shimla, one can either; drive all the way till Shalkar bridge and then walk through the village. Alternatively, one can take a bus, any bus going towards Nako/Kaza and get off at Shalkar.
Accommodation: One can easily avail stay facility in hotel or homestays at Chango village which is not far from Shalkar. The price generally ranges from 600 to 900 per night for one room.
Best Time to Visit: If you're looking to eat apples then surely, September to October. If you're looking to say hello to the bees, then flowering season in April-May is ideal. It is pleasant all year round except winters, when the road might be closed and one might face problems due to extreme temperatures.
---
Mayank Pathak is a part-time backpacker, full-time tourism student with an innate wanderlust. He loves sharing his mind's eye through words and visuals.